Set Up Passwords and Security in Windows 8
Set Up Passwords and Security in Windows 8
There's not much point to having a Windows 8 user account if you don't have a password. Without one, Charles from the next cubicle can click your account on the sign-in screen, giving him free reign to snoop through your files.
Administrators, especially, should have passwords. If they don't, they're automatically letting anybody wreak havoc with the PC: When a permission's screen appears, anybody can just press Enter at the password screen to gain entrance.
To create or change a password, follow these steps: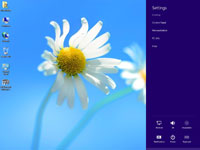 1

Summon the Charms bar, click the Settings icon, and then click the words Change PC Settings.

You can fetch the Charms bar by pointing your mouse at the screen's top- or bottom-right corner, sliding a finger inward from a touchscreen's right edge, or pressing Windows+C with a keyboard.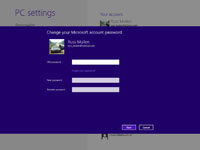 3

Click the Change Your Password button.

People who haven't created a password should instead click the Create a Password button.
4

Make up an easy-to-remember password and type it into the New Password text box. Then retype the same characters into the Retype Password text box below it.

Retyping the password eliminates the chance of typos.

Changing an existing password works slightly differently: The screen shows a Current Password text box where you must first type your existing password. (That keeps pranksters from sneaking over and changing your password during lunch hours.)
5

In the Type a Password Hint text box, type a clue that helps you remember your forgotten password.

Make sure that the clue works only for you. Don't enter "My hair color," for example. If you're at work, enter My cat's favorite food or The director of my favorite movie. If you're at home, choose something only you — not the kids — know. And don't be afraid to change your password every once in a while, too.

Although the password hint should remind you of your password, it doesn't hurt to create a Password Reset Disk, as well, as described in the sidebar.

For more information about Windows 8 and its features, explore Windows 8 For Dummies, available online.