Set Up or Connect with a Windows 8 Homegroup
Set Up or Connect with a Windows 8 Homegroup
Microsoft's solution to networking is called a Homegroup. A simpler way of networking, a Windows 8 Homegroup lets every Windows PC in the house share the files nearly everybody wants to share: music, photos, movies, and the household printer. Set up a Homegroup, and Windows automatically begins sharing those items.
Homegroups aren't limited to Windows 8 computers, either — they work fine with any Windows 7 computers on your network, as well. (Homegroups don't work with Windows Vista and Windows XP, unfortunately.)
Here's how to set up a new Homegroup on a Windows 8 PC, as well as how to let Windows 8 join a Homegroup you may have already set up with your other networked computers:
1

Summon the Charms bar, click the Settings icon, and click the words Change PC Settings.

With a mouse, point at the screen's top- or bottom-right corners to summon the Charms bar. Click the Settings icon and click the words Change PC Settings.

On a touchscreen, slide your finger inward from the right edge, tap the Settings icon, and tap the words Change PC Settings.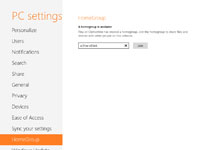 2

When the PC Settings screen appears, click the Homegroup category on the left and click either the Create or Join button.

If you see a Create button, click it to begin creating a new Homegroup. Then move to Step 3.

If you see a Join button, somebody has already created a Homegroup on your network. To join it, type in the Homegroup's existing password and click the Join button.

Whether you click Join or Create, Windows asks what you'd like to share.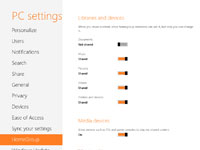 3

Choose the items you'd like to share.

The window lets you select the items you want to share with your Homegroup brethren. To share an item, slide its toggle switch to the right. (The bar turns orange for shared items.) To keep items private, keep their switch slid to the left. (The bar stays gray for items not shared.)

Most people want to share their Music, Pictures, Videos, and Printers. Because the Documents library often contains more private material, it's usually left unshared. To share those folders with home theater components and game consoles, turn the Media Devices option on, as well.

If you're joining an existing Homegroup, you're finished.
4

If you clicked the Create button, take note of the password listed at the screen's bottom.

You must enter that same password into each computer you want to include in your Homegroup.

For more information about Windows 8 and its features, explore Windows 8 For Dummies, available online.