Send Messages with the Messaging App on Your Windows 8 Tablet
Send Messages with the Messaging App on Your Windows 8 Tablet
Windows 8's friendly Messaging app on your tablet lets you type back and forth with any contact listed in your People app. It even handles the mechanics of facilitating interprogram banter: Your friend could be typing in Facebook's instant messaging window, while you're typing back in the Messaging app's window.
To type messages back and forth to an online friend, follow these steps:
2

Tap the plus sign at the right of the Start a Conversation box.

Shown in the top-left corner, the plus sign fetches the People app's Online mode, which lists only friends who are currently online and available for chatting. If a friend doesn't appear here, he's either not online, not available for chatting, or not listed in your People app.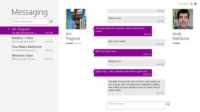 3

Tap the name of the person you want to chat with.

When the messaging window appears, begin typing. Your friend's own messaging system, whether it's on Facebook, a cellphone, or a different system, will load, letting her know you're starting to chat with her.
4

Type your message; then press Enter.

As you type, feel free to edit your message. Your message isn't sent until you press Enter. When you press Enter, your message appears in your friend's messaging program. When you both finish chatting, simply stop typing, and move onto something else.

Even when closed, the Messaging app keeps an archive of your conversation, and if you two chat again, the archive will grow longer.