Refreshing Your Windows 8.1 PC
Refreshing Your Windows 8.1 PC
Refresh keeps some Windows 8.1 settings (accounts, passwords, the desktop, Internet Explorer favorites, wireless network settings, drive letter assignments, and BitLocker settings) and all personal data (in the User folder). It wipes out all programs and then restores the apps available in the Windows Store (primarily the tiled apps).
This solution is pretty drastic, too, but at least it keeps the data stored in the most common locations — Documents folder, the desktop, Downloads, and the like. And as an added bonus, the Refresh routine keeps a list of the apps it zapped and puts that list on your desktop, so you can look at it when your machine's back to its chirpy self.
Here's how to run Refresh:
1

Make very, very sure you understand what will come through and what won't.

Running Refresh destroys many of your Windows settings; files, including data files, not in the User folder; and desktop apps that you didn't install from the Windows Store.
2

From the Start screen, swipe from the right or hover your mouse in the upper-right corner.

Choose the Settings charm.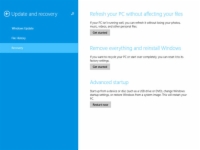 3

At the bottom, tap or click Change PC Settings; on the left, tap or click Update and Recovery.

At the bottom of the Update and Recovery list is the Recovery setting.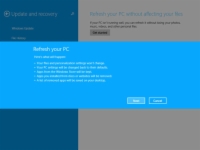 4

Under the heading Refresh Your PC Without Affecting Your Files (which is only a slight exaggeration), tap or click Get Started.

The message shown appears; take it to heart.
5

Tap or click Next, and then tap or click Refresh.

The whole process takes about ten minutes on a reasonably well-seasoned PC, but it can take longer, particularly on a slow tablet.

When Refresh is done, you end up on the Windows Log in screen.
6

Tap or click the Desktop tile, and then tap or double-click the new Removed Apps file on the desktop.

Your default browser appears and shows you a list of all the programs it identified that didn't make it through the Refresh.

If Windows 8.1 can't boot normally, you're tossed into the Windows Recovery Environment.