Organize the Windows 8.1 Start Screen for a Lean Mean Desktop
Organize the Windows 8.1 Start Screen for a Lean Mean Desktop
If the general idea is to build the Windows 8.1 Start screen specifically to help you use the old-fashioned Windows desktop as effectively as you can, you need to click and drag tiles into groups that make sense, and then use the customizing tools to assign names to the groups.
Click and drag the tiles into these groups: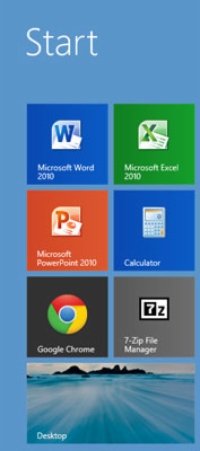 1

Create a group containing your core desktop apps.

Word, Excel, PowerPoint, Google Chrome, 7-Zip (which is very handy for putting together password-protected Zip files). If you have an extra spot, drag over the desktop calculator.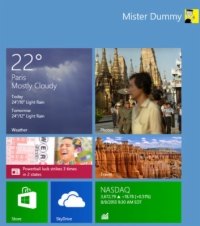 2

Create a group out of useful, tiled Windows 8.1 apps.

These are apps that serve a useful purpose (or at least serve up some nice eye candy) whenever you're on the Start screen. With the extra room, you can resurrect the Travel and Finance apps.
3

Create the Utilities group.

The next bunch of programs (Secunia PSI, Notepad, Paint, Internet Explorer, Windows Media Player) come in handy from time to time.
4

Create a miscellaneous group — the dregs.

These programs you want to keep on the Start screen because you may use them once in a while, but you might not use them frequently enough for them to occupy an important spot.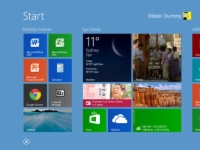 5

Name your groups.

Finally, if you right-click on any tile, Windows opens up a grayed-out window above each group, inviting you to Name Group. Type in some suitable names, click once on the Start screen itself, and it's done.

One of the nicest features of the Metro Start screen? You can change it easily, any time. Just click and drag tiles to wherever you want them.