Internet Explorer 10: Using Search Engines to Find Things
Internet Explorer 10: Using Search Engines to Find Things
To help you find what you're looking for on the Internet, use Internet Explorer 10 (IE10), which comes on the Windows 8 desktop. IE 10 is a search engine — a service that contains a vast index of Internet sites. Previous versions of Internet Explorer offered a Search box, a special place along the top to type in a few words about what you're seeking.
Both versions of Internet Explorer in Windows 8 remove the Search box. Instead, type your search term — exotic orchids, for example — directly into the Address Bar and press Enter. Internet Explorer fires your search off to Bing, Microsoft's own search engine, and spits out websites dealing in exotic orchids.
Don't like Bing handling your search needs? You can change that search engine to Google or any other search engine you like.
Follow these steps to customize Internet Explorer's searches to your liking:
1

Click the Tools icon, which looks like a little gear in Internet Explorer's top-right corner.

A drop-down menu appears.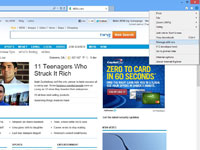 2

Choose Manage Add-ons, choose Search Providers from the Add-On Types section, and choose Find More Search Providers from the page's bottom-left corner.

Internet Explorer visits Microsoft's website and lists a few dozen search engines.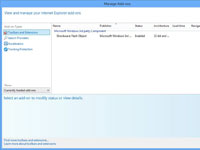 3

Click your favorite search engine and click the Add to Internet Explorer button.

A dialog box opens, asking whether you want to add that search provider.

If you want your searches to all go to one search engine — Google, for example — select the check box labeled Make This My Default Search Provider before you go to Step 4. That option tells Internet Explorer to automatically send all your searches to that provider.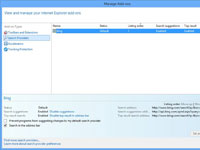 4

Click the Add button.

Internet Explorer replaces Bing with your newly selected search provider. Changing the search engine in the desktop version of Internet Explorer also applies the change the Start screen's version of Internet Explorer.

For more information about Windows 8 and its features, explore Windows 8 For Dummies, available online.