How to Use a Password Reset Disk with Windows 8.1
How to Use a Password Reset Disk with Windows 8.1
As long as you have created a Password Reset Disk for Windows 8.1, which is, in fact, a little file called userkey.psw, you can reset your password. Here's how to use the file and reset your password:
1

Copy the file onto some sort of removable drive that your computer can read.

It'll probably be a USB flash drive, but it could also be an SD card or even a USB-attached hard drive. Make sure it isn't sitting in a folder somewhere; the file has to be in the root directory.
2

Go through the motions to log on using a typed password.

If you're accustomed to logging on with a picture password, click the box marked Switch to Password on the logon screen and try there.

You don't know the password. Relax. Just type something and press Enter.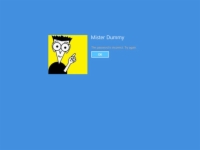 3

When Windows comes back and tells you that The Password is Incorrect, read about how you can reset the password online, smile because you have the magic Open Sesame Disk (er, file), and click OK.

That brings up the alternative logon screen shown.
4

Click Reset Password.

Windows brings up the Welcome to the Password Reset Wizard. Glad that you found it, eh?
5

Make sure your Password Reset Disk — any disk with the userkey.psw file on it — is attached to the PC.

Then tap or click Next.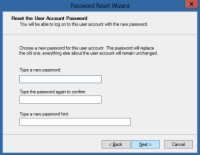 6

Follow the steps in the wizard.

The last step in the wizard asks you to type in a new password.

Remember that this is the new password for this account on this computer. It doesn't affect the Password Reset Disk or the userkey.psw file at all.
7

Type in a new password and hint. Tap or click Next and then click Finish.

Windows brings you back to the logon screen, where you can log on with the new password.

Don't lose that userkey.psw file, okay?