How to Set Up Windows Media Player in Windows 8.1
How to Set Up Windows Media Player in Windows 8.1
The first time you fire up Windows Media Player in Windows 8.1, you are presented with a bunch of inscrutable choices. If you haven't run WMP yet, here's how to get off on the right foot: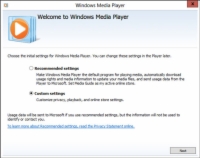 1

Get WMP running. If you have a tile on the Start screen, click it. If you have an icon on the taskbar, click it.

Either way, you're propelled to the desktop and presented with the Welcome screen.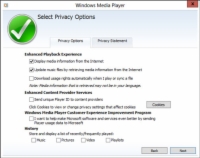 2

Select the Custom Settings radio button and then click the Next button.

WMP shows you the Select Privacy Options dialog box, which enables you to limit Windows Media Player's snooping. You may feel that Microsoft should be able to keep records of everything you're playing. Fair enough.
3

Select or deselect the various check boxes, depending on your preferences.

Microsoft has a long, tumultuous history of using Windows Media Player to gather all sorts of personal information about you and your media-playing habits. (Of course, the tiled, Metro Music app collects everything with wild abandon anyway.) Approach this dialog box with skepticism.

Select only the Display Media Information from the Internet and the Update Music Files by Retrieving Media Information from the Internet check boxes. You may want to send Microsoft more, but unless you have an overwhelming reason to do so, you might want to limit your exposure. Of course, if you choose the option Display Media Information from the Internet, Microsoft keeps tabs on you, too.

The check box marked Download Usage Rights Automatically when I Play or Sync a File only applies to DRM-protected (read: copy protected) files that you bought long ago from Microsoft, which is why you might not want to let WMP check for Usage Rights. Anything Microsoft sold you in the recent past doesn't have DRM protection. Anything that still has DRM protection deserves to be deleted. Terminated with extreme prejudice.
4

When you're comfortable with your privacy choices, click the Next button.

WMP then asks whether you want it to be used as the default music and video player. If you haven't yet installed a competing product, such as VLC, go ahead and make WMP your default music and video player.
5

Choose whether you want WMP to be your default player and click the Next button.

Finally, WMP may ask if you want to set up an online store. In this case, the option is called Media Guide, and it's an option because Microsoft owns the Media Guide. You can buy music in much better ways.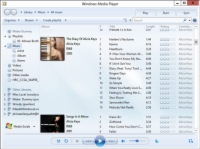 6

Choose Don't Set Up a Store Now and click Finish.

WMP springs to life, scans your Music library, and displays the available songs.

WMP may take a while to scan your Music library and add songs as it bumps into them. Initially, your Music library includes your own Music folder. WMP also reaches out into your computer's Public Music folder, across your network and HomeGroup, to see whether any media collections have been made available.