How to Send Attachments with the Windows 8 Mail App
How to Send Attachments with the Windows 8 Mail App
Sending a file through the Windows 8 Mail app works much like saving an attached file, although in reverse: Instead of grabbing a file from an e-mail and saving it into a folder or library, you're grabbing a file from a folder or library and saving it in an e-mail.
To send a file as an attachment in the Mail app, follow these steps:
1

Open the Mail app and create a new e-mail.

From the Start screen, open the Mail app's tile and click the New icon in the program's top-right corner.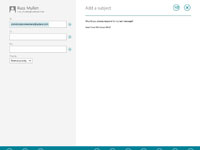 2

Open the Mail app's App bar, and click the Attachments icon.

Open the App bar by right-clicking on a blank part of the e-mail. When you click the Attachment icon, the Windows 8 File Picker window appears.
3

Navigate to the file you'd like to send.

For easy browsing, click the word Files. That fetches a drop-down menu, listing your computer's major storage areas. Most files are stored in your Documents, Pictures, Music and Videos libraries.

Click a folder's name to see the files it contains. Not the right folder? Click the File Picker's Go Up link to move back out of the folder and try again.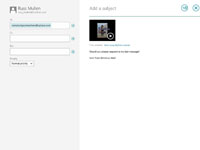 4

Click the filenames you want to send and click the Attach button.

Selected too many files? Deselect unwanted files by clicking their names yet again. When you click the Attach button, the Mail app adds the file or files to your e-mail.
5

Click the Send button.

The Mail app whisks off your mail and its attachment to the recipient.

For more information about Windows 8 and its features, explore Windows 8 For Dummies, available online.