How to Open an App on Your Windows 8 Tablet
How to Open an App on Your Windows 8 Tablet
When first installed on your tablet, Windows 8 doesn't bother to organize your Start screen. Your apps appear in a haphazard mess that sprawls out of view beyond the screen's right edge. As you slide your finger along the Start screen from right to left, the tiles move, bringing more into view.
If you spot the app you want to open, tap it with a finger: The app fills the screen, ready for action.
However, the bigger task may be simply finding the app you want to open. The sprawling Start screen doesn't alphabetize your apps or organize them into manageable groups. That leaves way too many hiding places.
When your sought-after app is lost in a sea of tiles, bring the app to the surface by following these steps: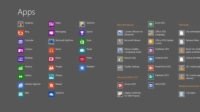 1

Swipe up from the screen's top or bottom. When the Start screen's menu appears along the bottom edge, tap the All Apps icon.

The Start screen lists of all your apps alphabetically, followed by a list of your desktop programs, organized alphabetically by category. Still don't spot the app you're after? Move to Step 2.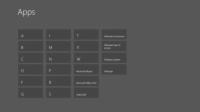 2

Pinch the All Apps screen.

The app icons disappear, and Windows lists the alphabet, from A to Z. Touch the first letter of your app, and Windows redisplays all the apps. This time, the apps beginning with that letter begin at the screen's center, making them easier to pluck from the list.

This trick works best for the Start screen's huge variety of apps. If you still can't find your app, move to Step 3.
3

Search for the app.

Swipe your finger in from the right edge to fetch the Charms bar. When the Charms bar appears, tap the Search icon. A keyboard appears ready for you to type the app's name. As you type, Windows lists matching apps, narrowing down the list with each letter you type.

Spot your app? Tap its icon to launch it.

If you've plugged a keyboard into your tablet, just begin typing the app's name directly onto the Start screen. The screen quickly transforms into a list of every app matching what you've typed so far. Once you spot your app's name on the list, tap it, and it leaps onto the screen.

(Or, if your typing has narrowed down the list to one app, press Enter on the keyboard to launch the app.)