How to Manage Playlists in the Windows 8.1 Metro Xbox Music App
How to Manage Playlists in the Windows 8.1 Metro Xbox Music App
The Metro Xbox Music app has a rudimentary playlist capability. A playlist is just a list of songs that the app is supposed to play in order.
Remarkably, any playlist that you create in a different app, such as Windows Media Player or VLC, works great in the Metro Xbox Music app. You just have to make sure you put the WPL file — the file that contains the playlist — in your Music library.
Unfortunately, the Metro Xbox Video app doesn't support playlists. If you have kids in the household, you know how useful video playlists can be. Oh, well. YouTube still lets you create and maintain video playlists — and it doesn't cost anything. My Roku does better.
You can create a playlist in the Metro Xbox Music app in several ways. Here's the easiest: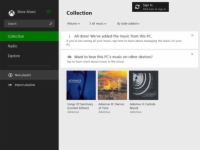 1

In the Metro Xbox Music app, tap or click the New Playlist link on the left.

A small box invites you to type a name for the playlist.
2

Type a name for your new playlist and tap or click Save.

The playlist appears on the screen, but there are no instructions or any indication of how to add songs to the playlist.
4

Now go find songs you want to add to the playlist.

If you want to buy them, click the Explore Music link in the middle of the screen. If you want to add songs you already own (imagine that), tap or click the Collection link on the left.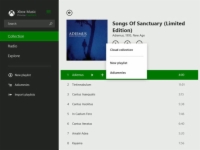 5

When you find a song you want to add, click or tap to highlight it, click or tap the + sign to the right of the song's name, and choose the name of the playlist you wish to add it to.

Yeah, it's weird.
6

You can choose individual songs to play from the playlist by choosing the playlist on the left and then right-clicking or swiping from the bottom.

In the Metro Xbox Music App bar, you can play, adjust the volume, or play the previous song.

There's no way to rearrange the songs in a playlist, to add a song to the middle of a playlist, or to merge or split playlists.

When you play a playlist, you can remove an individual song from the playlist by tapping or right-clicking it and, in the App bar, choosing Remove from Playlist.