How to Get Started with Windows 8.1 Photo Gallery
How to Get Started with Windows 8.1 Photo Gallery
The tiled Windows 8.1 Metro style app called Photos is fancy and glitzy, brings together photos from all over the place, including SkyDrive, and has only the most rudimentary controls for handling large numbers of pictures. The editing capabilities barely extend beyond the Cro-Magnon level. Compared to the iPad's iPhoto, Microsoft's tiled Metro Photo is just plain embarrassing.
Here's how to get started with Windows Photo Gallery for the first time:
1

After you've installed it, start Windows Photo Gallery either by tapping or clicking the Windows Photo Gallery tile on the All Apps menu or by clicking the Windows Photo Gallery icon on the taskbar.

The first time you start WPG, it'll ask you to sign in with your e-mail address. If you have a Microsoft account, signing in will make it easier to connect to SkyDrive.

The WPG startup routine may also ask if you want to use WPG to open files of the following types: JPG, TIF, JXR, PNG, WDP, BMP, and ICO. Those are filename extensions.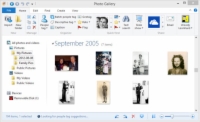 2

You probably do want WPG to take over those file types, so if you see the notification, click Yes.

WPG scans your Pictures and Videos folders and shows you thumbnails of both in the main window.

The WPG development team likes to say that Windows Photo Gallery is designed to store your "digital memories." Gag me with a RAMDAC. What they're really saying is that Windows Photo Gallery works with only the kinds of picture files that are commonly produced by digital cameras — JPG and MPG (and to a lesser extent, TIF) files.

You can use RAW format pictures, but only if the camera manufacturer has a program (a codec) that can pass them on to WPG. You can't use Photo Gallery to modify GIF, PCX, or WMF files — another reason why it's important to have Windows show your filename extensions.
3

You can have WPG show you more or less of the gallery in the ways you would expect by hopping through the navigation pane on the left:

Click, oh, Pictures, and WPG shows you only the pictures in your Pictures folder.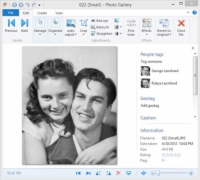 4

To edit a still photo, double-click it.

WPG shows the photo all by itself and brings up the Edit Ribbon.

If you want to edit a file that's in a format WPG can't edit (for example, GIF or BMP), double-click the file to go into single picture view and tap or click the icon Make a Copy. Windows Photo Gallery lets you save the file in JPG, TIF, or WDP format, all of which are editable in WPG.

When you're done with the picture, click the big red "X" icon in the upper-right corner that's marked Close File. You go back to the main window.
5

To view, but not edit, a video, double-click it.

WPG shows you the video, with simple tools to start and stop, tag, and delete. If you want to edit your video, you need Windows Movie Maker, which may or may not work.

When you're done, click the X in the upper-right corner to exit WLMP.