How to Customize the Windows 8.1 Bing News App
How to Customize the Windows 8.1 Bing News App
Bing Daily is the primary way of looking at the Windows 8.1 Bing News app. You may be surprised to discover that Bing News has other features, which may actually prove useful.
Here's how to get to the rest of the story: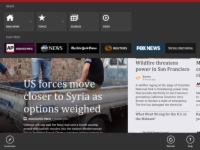 1

Bring up the Bing News app; then swipe from the top or bottom or right-click the app.

Four icons appear. Each icon represents a different way of customizing the Metro Bing News app.

2

Tap or click the Bing News icon.

Bing News shows you shortcuts for the main headings that you have set up for your news. This figure shows which headings are in effect if you haven't changed anything. You can quickly shuffle over to World, Tech, Politics, Opinion, and so on.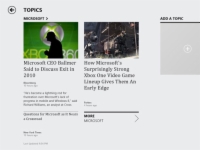 3

Tap or click Topics.

Metro News takes you to a list of stories grouped by Topics. The only Topic already set up for you is about, cough, cough, Microsoft.
4

Tap or click one of the articles.

The main part of Bing News is touch-friendly: You move from screen to screen by sliding your finger from left to right and back, or by clicking on a slider down below.

But the articles accessible from your custom Topics touch-friendly at all: The pages scroll from top to bottom, they don't swipe from left to right, and they're covered with ads. (And the text doesn't resize or re-flow in either Bing News or Topic News.)

Why isn't Topic News very touchy? Because you're viewing the news site's web page using the Metro tiled version of Internet Explorer. All the "wrapping" has been cut off so you can't move around, but you're definitely in Metro tiled IE.

How can you tell? If you go to a news site that has some sort of blocked content — maybe a site on the Flash blacklist or one trying to run Silverlight — you see warnings that say videos can't be viewed because you don't have the correct version of the Flash player or Silverlight.

It's a bogus error message, but you're still stuck. The only way to view the animation is to flip over to the desktop version of IE and try to find the same page — which can be challenging.

In some cases, the Topic News part of Bing News tells you that the article you chose can't be viewed in the Bing News app and offers to send you off to your default browser. From there, you have to find your way back into Topic News, to pick up where you left off.
5

On the right, tap or click the Add a Topic box.

Bing News asks you to enter a news topic. Give it a try.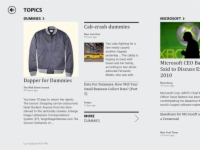 6

Type a topic, such as Dummies, and then tap or click Add.

Topic News puts together a tab for Dummies.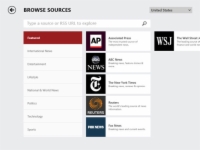 7

Tap or click the left arrow next to Topics and then swipe or right-click the Bing News page to bring up the icons. Tap or click Sources.

Bing News brings up a list of all the news sources that it aggregates, broken out by the type of news.
8

Tap or click a news source.

A list of the most recent news stories from the source appears.
9

Tap on a story that you want to see.

This time you see a touch-friendly version of the story, but many of the stories are just short snippets.