How to Chat through the Windows 8 Messaging App
How to Chat through the Windows 8 Messaging App
The Windows 8 Messaging app handles both heartfelt conversations and idle chatter. And even if your online friends use different messaging services and programs, Windows Messaging can swap messages with them all.
To begin swapping small talk, er, philosophical conversations with your online friends, follow these steps:
2

Click the New Message link.

The New Message link lets you see which of your friends are currently online in their own messaging programs. If a friend doesn't appear here, she's either not online or she's not listed in your People app.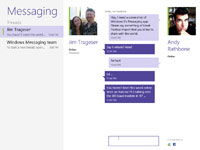 3

Click the person you'd like to chat with.

When the messaging window appears, begin typing. Your friend will see a notice from his or her own messaging program, whether it's on Facebook, a cellphone, or a different system.

When you press Enter, your message appears in their messaging program. And that's it. When you're done typing messages at each other, just say goodbye. The next time you visit the Messaging app, your conversation will still be there, waiting to be continued, if you wish.

For more information about Windows 8 and its features, explore Windows 8 For Dummies, available online.