How to Arrange and Group Apps on the Windows 8.1 Start Screen
How to Arrange and Group Apps on the Windows 8.1 Start Screen
You can rearrange tiles on the Windows 8.1 Start screen by dragging them to different places. To keep your desktop organized, you also can arrange them into groups, which you can name according to their function (or your whim).
1

On the Start screen, drag the Calculator tile to a different location.

As you move the tile, other tiles move out of the way, like a game of Dodge Tile.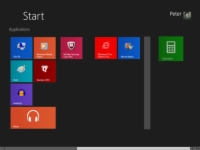 2

Create a new group for Calculator by dragging the Calculator tile to the right of all the other tiles.

When a vertical bar appears, release the Calculator tile. You just created a new group with Calculator as the only tile.
3

It's time to name the new group. Begin by displaying the Customize bar:

Mouse: Right-click anywhere on the screen but on a tile.

Touchscreen: Press and hold anywhere on screen except on a tile.
4

Select the Customize button on the App bar.

The Start screen dims to indicate that it is in Customization mode.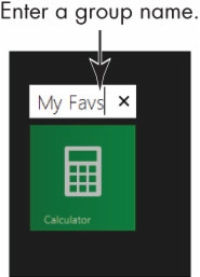 5

Type a name for the group.

The new name appears above the group, although the name may appear shortened on this screen. You can change the name at any time by repeating Steps 4 and 5. To remove the name, select the X to the right of the text box.
6

Use one of the following methods to select — but not open — the Calculator tile:

Mouse: Position the pointer over the tile and right-click. (A left click would open the app.)

Touchscreen: Swipe slightly down or up on the tile. (A direct tap would open the app.)

Keyboard: Use the arrow keys to select the app. Then press the context menu key, which is usually next to the right-hand Windows key.

A check mark next to a tile indicates that the tile is selected.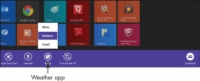 7

Change the size of the Calculator tile.

On the Customize bar, select the Resize button and select the Wide option on the pop-up menu. As well as the Wide, Medium, and Small options, Windows 8.1 provides a Large option for some tiles.

Choose the Large or Wide resize option for apps you use often. The larger the tile, the easier it is to find on the Start screen.
8

Locate a tile on the Start screen that doesn't need to be there.

Then select the tile and select the Unpin from Start button on the app bar.

The Start screen becomes more useful and personal when you eliminate tiles you don't need and arrange tiles to suit your sense of order.

Click the screen to exit Customization mode.