How to Add Windows 8.1 Users
How to Add Windows 8.1 Users
The first account on a new PC is always an administrator account. If you bought your PC with Windows 8.1 pre-installed, the account that you have — the one you probably set up shortly after you took the computer out of the box — is an administrator account. If you installed Windows on a PC, the account you set up during the installation is an administrator account.
When you create new accounts, on the other hand, they always start out as standard accounts. That's as it should be.
After you log on to an administrator account, you can add more users quite easily. Here's how:
1

On the Start screen, swipe from the right or hover your mouse in the upper-right corner (or type Windows key+C) to bring up the Charms bar.

At the bottom, choose the Settings charm.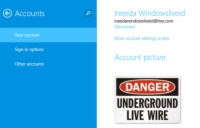 2

At the bottom of the Start Settings pane, tap or click the Change PC Settings link and then select Accounts on the left.

The Accounts screen appears.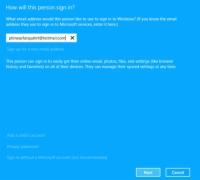 3

Under Other Accounts, choose Add a User.

You see the challenging How Will This Person Sign In? dialog box.

If you want to set up an account for your child, start by setting up a standard account, and later switch from a standard account to a child account.
4
If you already have a Microsoft account, type the address in the box at the top and then tap or click Next.
E-mail addresses from @hotmail.com or @live.com or @outlook.com are automatically Microsoft accounts. Then skip to Step 7.
Windows sets up your account.
There are good reasons for using a Microsoft account — a Microsoft account makes it much easier and faster to retrieve your mail and calendar entries, for example, bypassing individual account logins. It'll automatically connect you to your SkyDrive account. Only you can decide if the added convenience is worth the decreased privacy.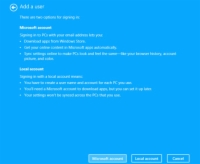 5

If you're skeptical about using a Microsoft account, waaaaaay down at the bottom, click or tap the link that says Take Your Microsoft Account and Shove It (otherwise known as Sign In Without a Microsoft Account (Not Recommended).

Windows helpfully gives you yet another opportunity to set up a Microsoft account.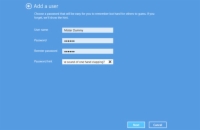 6

At the bottom, click or tap the Local Account box. Sheesh.

Windows (finally!) asks you about a Local account name and password.
7

Type a name for the new account.

You can give a new account just about any name you like: first name, last name, nickname, titles, abbreviations . . . No sweat, as long as you don't use the characters / [ ] " ; : | < > + = , ? or *.
8

(Optional) Type a password twice and then add a password hint.

If you leave these fields blank, the user can log on directly by simply tapping or clicking the account name on the logon screen.

Note that the password hint can be seen by anybody on the computer, so avoid that NSFW (Not Suitable For Work) hint you were thinking about.
9

Click or tap Next; then click or tap Finish.

You're done. Rocket science. You have a new standard account, and its name now appears on the Welcome screen.