How to Add Appointments to the Windows 8 Calendar App
How to Add Appointments to the Windows 8 Calendar App
The Windows 8 Calendar app grabs whatever appointments it can find from your online social networks. But you can still add or edit appointments manually when needed.
To add an appointment to your Calendar app, follow these steps:
2

Load the Apps bar and click the New icon.

Right-click anywhere on the Calendar to load the Apps bar.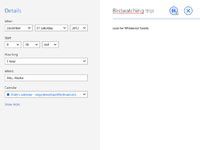 3

Fill out the Details form.

Most of the choices are self-explanatory fields.

The biggest challenge comes with the Calendar field, an option available only if you've entered more than one e-mail account into your Mail app. Which e-mail account should receive the new calendar appointment?

As with the Contacts app, your answer depends primarily on which cellphone you own. Choose your Google account if you use an Android phone, so your newly added account will appear on Gmail's calendar, as well as your Android phone. Choose Microsoft if you own a Microsoft phone.
4

Click the Save button.

The Calendar app adds your new appointment to the Windows 8 Calendar, as well as to whichever account you chose in Step 3.

To add or delete an appointment, open it from the calendar. Right-click the Calendar to summon the App bar and then click the Delete button to delete the appointment. To edit it, choose the Edit icon, and your appointment appears.

For more information about Windows 8 and its features, explore Windows 8 For Dummies, available online.