Free Up Space on Your Hard Drive with Windows 8
Free Up Space on Your Hard Drive with Windows 8
Windows 8 grabs quite a bit of space on your hard drive, although it's slimmer than some earlier Windows versions. If programs begin whining about running out of room on your hard drive, this solution grants you a short reprieve:
1

Right-click your screen's bottom-left corner and choose Control Panel.

From the desktop, slide your finger in from the screen's right edge, tap the Settings icon, and tap the Control Panel link in the screen's top-right corner.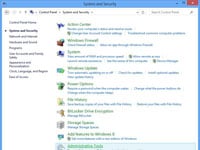 2

Click the Control Panel's System and Security category. Then, in the Administrative Tools category (near the bottom), click the Free Up Disk Space link.

If your PC has more than one disk drive, Windows 8 asks which drive to clean up. The Disk Cleanup Drive Selection window appears.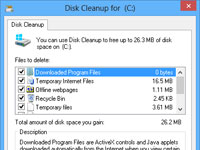 3

Leave the choice set to (C:) and click OK.

The Disk Cleanup program calculates how much disk space you can save and presents the Disk Cleanup dialog box. (The amount of disk space you can save is shown at the top of the dialog box.)
4

Select the check boxes for all the items and then click OK.

As you select a check box, the Description section explains what's being deleted. When you click the OK button, Windows asks if you're sure you want to delete the files.

If you spot a Clean Up System Files button, click it, too. It deletes detritus created by your PC, not you.
5

Click the Delete Files button to erase the unneeded files.

Windows 8 proceeds to empty your Recycle Bin, destroy leftovers from old websites, and remove other hard drive clutter.

For more information about Windows 8 and its features, explore Windows 8 For Dummies, available online.