Drop the Background from the Windows 8.1 Metro Start Screen
Drop the Background from the Windows 8.1 Metro Start Screen
In Windows 8.1, Start doesn't have cascading menus: All the tiles sit on the Metro Start screen, and you have to scroll to find them. What are those swirly designer backgrounds and squiggly things (is that an Angry Birds pig?) that lurk underneath the Metro tiles?
Just get rid of the swirlies. Here's how: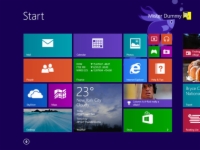 1

Press the Windows key or Windows button if you aren't already there.

The Metro Start screen appears with all its tiles and swirlies.
2

From the Metro Start screen, slide your mouse to the upper-right corner of the screen or push Windows key+C.

This brings up the Charms bar.
4

If you want to get rid of those swirly thingies and pick a solid color for the Metro Start screen background, click or tap the second tile from the right on the bottom (it'll probably look like a dull black blob).

If you want to get ahead of yourself, you can tell the Metro Start screen to match its background with your old-fashioned desktop background by choosing the tile at the bottom right.
5

Slide and click to choose the background color (which appears as the "wallpaper" for the Metro Start screen) and the accent color (which doesn't show up much).

You're done. Nothing to click or accept.