Download New Apps to Your Windows 8 Tablet from the Windows Store
Download New Apps to Your Windows 8 Tablet from the Windows Store
Windows 8 on your tablet comes with a plenty of built-in apps. But sooner or later, those won't be enough. When you need to beef up your tablet with more features, you have an app for that: the Windows Store app.
As programmers write more apps to fill in different niches, Windows 8 keeps growing, and best of all, most of the apps are free.
Because Windows RT tablets can't run desktop programs, they're limited to apps downloaded from the Store app.
To add new apps to your tablet, follow these steps: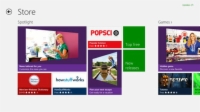 1

Open the Store app.

If you're not already on the Start screen, head there with a tap of the Windows key. Tap the Store app's tile, and the Store app fills the screen.

If any of your apps have available updates — newer versions that add features or fix problems — the store lists them in its upper-right corner.

The Store app never shows you all of its apps. Some apps are limited to people living in certain countries, for example, and Windows RT tablet owners won't see apps that run only on Windows 8 tablets. (Windows 8 tablet owners see both types of apps.)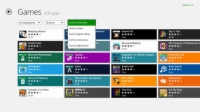 2

Browse for apps, tapping interesting apps to read their description, details, and reviews left by others.

You can search for a specific app, but if you feel like browsing, the Store app offers many ways to window- shop its app collection.

To explore the apps, drop by these places in the Store: Top Free, New Releases, and Categories.

Tap any category's name to browse apps in that category. Some categories offer subcategories. Tap the Games category, for example, and you can sort the apps by their game type (adventure or playing card, for example), price, rating, and more.

If you spot the app of your dreams, head to Step 4 to install it onto your tablet. If you still can't find the right app, move to the next step and search for it.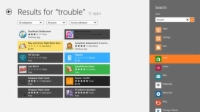 3

Search for an app.

When you can't find what you want by browsing, try searching. Like every other search in Windows 8, searching for an app begins with a trip to the Charms bar:

Slide your finger inward from the screen's right edge, and tap the Search icon.

When the Search pane appears, type a keyword or two that describes your app in the Search box, then tap the keyboard's Search key.

Windows searches the Store, listing all the matches.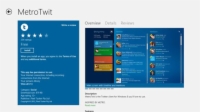 4

Tap an app's name to read more about it.

The app's page in the Store appears, offering three ways to see more about the app: Overview, Details, and Reviews.

By looking at an app's pictures and reading an app's Overview, Details and Reviews pages, you can determine whether the app's right for you or whether you should continue browsing.
5

Install or buy the app.

When you've found an app you want to place on your tablet, the app's page displays any of three buttons: Install, Try, or Buy.

If you don't see a button, the words You Own This App appear, meaning you've already downloaded the app. If it's missing from your Start screen, tap the All Apps button on the Start screen's App bar, which presents an alphabetical list of all the apps installed on your tablet.
6

Wait for the app to download.

Most apps download in less than a minute or two. Apps that take much longer usually warn you that you'll be pumping a lot of data into your tablet. If you're connecting via the Internet through a cellular service, wait until you're connected to a Wi-Fi connection, so you can avoid going over your data limit.

When the app finishes downloading, a notice pops up in the screen's upper-right corner telling you the app was installed.
7

Load the app.

The Start screen always hides your latest app downloads along its far-right edge. To find them, keep sliding your finger across the Start screen from right to left until you reach the end of the Start screen.

Microsoft designed the Store to be as easy to use as possible. You can browse for something that looks interesting, or you can search for exactly what you want.

As the number of apps increases, you'll be able to add many extra powers to your tablet quickly and easily — a welcome change from the days of old when you needed to slide discs into your computer, hoping everything would work.