Delete or Edit Contacts in the Windows 8 People App
Delete or Edit Contacts in the Windows 8 People App
It's easy to delete or edit a contact in the Windows 8 People app. If someone has fallen from your social graces or just changed their phone number, you can make edits by following these steps:
2

Click a contact.

The contact's page appears full-screen.
3

Right-click a blank part of the contact's page to summon the App bar.

The App bar appears as a strip along the screen's bottom.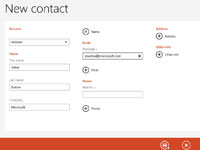 4

Click Delete to delete the contact or click Edit to update a contact's information. Then click Save.

Clicking Delete removes the person completely. However, the Delete button appears only for contacts you've added by hand. If they've been added through Facebook or another online social media site, you have to delete them by removing them from your contacts on that site. Unfriend them on Facebook or unfollow them on Twitter, for example, to remove them from the People app.

Clicking Edit fetches the screen shown, where you can update or delete any information before clicking Save to save your changes.

To send a quick message to a contact in your People app, click her name. When her contact information appears, click the Send Email button. The Mail app calls up a handy, pre-addressed New Message window, ready for you to type your message and click Send. (This trick works only if you have that contact's e-mail address.)

For more information about Windows 8 and its features, explore Windows 8 For Dummies, available online.