Choose Which Windows 8 Program Should Open Which File
Choose Which Windows 8 Program Should Open Which File
Most of the time, Windows 8 automatically knows which program should open which file. Double-click a file, and Windows tells the correct program to jump in and let you view its contents.
But sometimes Windows doesn't choose your preferred program, and that holds especially true for Windows 8. For example, the app-loving Windows 8 tells the Start screen's Music app to play your music. You may prefer that the desktop's Windows Media Player handle the music-playing chores, instead.
When the wrong program opens your file, here's how to make the right program open it instead: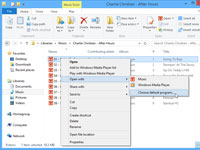 1

Right-click your problematic file and choose Open With from the pop-up menu.

As shown, Windows lists a few capable programs, including ones you've used to open that file in the past.

If a different window says, "Try an app on this PC" or "Look for an app in the Store," jump ahead to Step 4.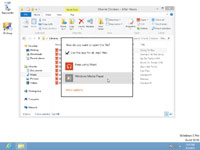 2

Click Choose Default Program and select the program you want to open the file.

A window appears that lists more programs, with the currently assigned program appearing at the list's top. If you spot your favorite program, double-click to tell it to open your file. (Make sure the Use This App for All Files check box is selected; it's usually selected by default.)

Don't see the program you want or need to open the file? Move to Step 3.
3

Click the More Options link at the bottom of the list.

In a bit of tomfoolery, Windows lists all of your programs — even ones that couldn't open the file if they tried. If you happen to spot your desired program, click it. Chances are good, though, that you'll move on to Step 4.
4

Choose an option.

Clicking the More Options link in the previous step reveals two more options at the bottom of the list: Look for an App in the Store and Look for Another App on This PC.

If you install a new program or app to open a particular file, the newcomer usually assigns itself the rights to open that type of file in the future. If it doesn't, head back to Step 1. This time, however, your newly installed program or app will appear on the list. Choose it, and you've finally finished.

For more information about Windows 8 and its features, explore Windows 8 For Dummies, available online.