Assess Your PC's Safety in the Windows 8 Action Center
Assess Your PC's Safety in the Windows 8 Action Center
Take a minute to check your PC's safety with the Windows 8 desktop's Action Center. Part of the Control Panel, the Action Center displays any problems it notices with the Windows 8 main defenses, and it provides handy, one-button fixes for the situations. Its taskbar icon always shows the Action Center's current status.
The Action Center window color codes problems by their severity; a blood red band shows critical problems requiring immediate action, and a yellow band means the problem needs attention soon.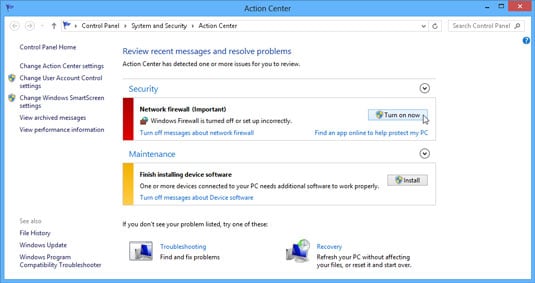 For example, the figure shows a red band by the first item in the Security category: Network Firewall (Important). In the Maintenance category, the Install Software for your Devices entry wears a yellow band.
Every defense in the Security category should be up and running for maximum safety because each protects you against different things.
If any of your computer's big cannons aren't loaded and pointing in the right direction, the Action Center's tiny taskbar icon appears with a red X across the flag.
When you spot that red-flagged icon on your taskbar, follow these steps to visit the Action Center and fix the problem:
Click the taskbar's red-flagged Action Center icon and choose Open Action Center from the pop-up menu.

The Action Center hops onscreen to display your computer's status in both security and maintenance. Normally, it doesn't list anything. But if you see an item listed in either the Security or Maintenance category, something's wrong.

Click the button next to flagged items to fix any potential security problems.

Whenever you notice that one of the Windows 8 defenses is turned off in the Action Center, click the button next to the item. For example, in the figure, clicking the button named Turn on Now will either fix the problem automatically or head you to a one-click switch that sets things straight.
By following the two preceding steps, your computer will be as safe as possible.
For more information about Windows 8 and its features, explore Windows 8 For Dummies, available online.