Add or Remove Programs in Windows 8
Add or Remove Programs in Windows 8
Whether you've picked up a new program or you want to purge an old one, the Windows 8 Control Panel's Programs category handles the job fairly well. One of its categories, Programs and Features, lists your currently installed programs. Click the one you want to discard or tweak.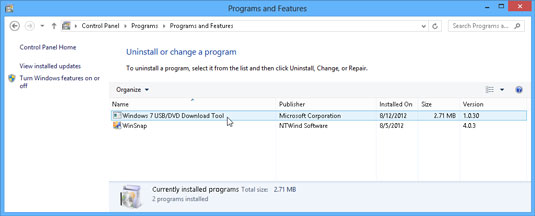 How to remove apps and programs
Removing an app from your computer doesn't take much effort. Right-click the app's tile from the Start screen; when the App bar rises from the Start screen's bottom edge, click the Uninstall icon, shown in the margin.
To remove an unwanted desktop program or change its settings, head for the desktop's Control Panel by following these steps:
Right-click in the screen's bottom-left corner and choose the Control Panel from the pop-up menu.

When the Control Panel appears, choose Uninstall a Program from the Programs category.

The Uninstall or Change a Program window appears, listing your currently installed programs, their publisher, size, installation date, and version number.

To free up disk space, click the Installed On or Size column header to find old or large programs. Then uninstall those forgotten programs you never or rarely use.

Click the unloved program and then click its Uninstall, Change, or Repair button.

The menu bar above the programs' names always displays an Uninstall button, but when you click certain programs, you may also see buttons for Change and Repair. Here's the rundown:

Uninstall: This completely removes the program from your PC. (Some programs list this button as Uninstall/Change.)

Change: This lets you change some of the program's features or remove parts of it.

Repair: A handy choice for damaged programs, this tells the program to inspect itself and replace damaged files with new ones. You may need to have the program's original CD or DVD handy, though, because you'll need to insert it into your computer.

When Windows asks whether you're sure, click Yes.

Depending on which button you've clicked, Windows 8 either boots the program off your PC or summons the program's own installation program to make the changes or repair itself.

After you delete a program, it's gone for good unless you kept its installation CD. Unlike other deleted items, deleted programs don't linger inside your Recycle Bin.
Always use the Control Panel's Uninstall or Change a Program window to uninstall unwanted programs. Simply deleting their files or folders won't do the trick. In fact, doing so often confuses your computer into sending bothersome error messages.
How to install new programs
Today, most programs install themselves automatically as soon as you slide their discs into your PC's drive or double-click their downloaded installation file.
If you're not sure whether a program has installed, go to the Start screen and look for its tile, usually toward the far right edge. If it's listed there, the program has installed.
But if a program doesn't automatically leap into your computer, here are some tips that can help:
You need an Administrator account to install programs. (Most computer owners automatically have an Administrator account.) That keeps the kids, with their Limited or Guest accounts, from installing programs and messing up the computer.

Downloaded a program? Windows 8 usually saves them in your Downloads folder, accessible by clicking your username on the Start screen. Double-click the downloaded program's name to install it.

Many eager, newly installed programs want to add a desktop shortcut, a Start screen tile, and a Quick Launch toolbar shortcut. Say "yes" to all. That way you can start the program from the desktop, avoiding a trip to the Start screen. (Changed your mind? Right-click any unwanted shortcuts and choose either Delete or Unpin to remove them.)

It's always a good idea to create a restore point before installing a new program. If your newly installed program goes haywire, use System Restore to return your computer to the peaceful state of mind it enjoyed before you installed the troublemaker.
For more information about Windows 8 and its features, explore Windows 8 For Dummies, available online.
Did this glimpse into adding or removing programs in Windows 8 leave you longing for more information and insight about Microsoft's personal computing operating system? You're free to test drive any of the For Dummies eLearning courses. Pick your course (you may be interested in more from Windows 8), fill out a quick registration, and then give eLearning a spin with the Try It! button. You'll be right on course for more trusted know how: The full version's also available at Windows 8.