Add Five Helpful Icons to Your Windows 8 Desktop
Add Five Helpful Icons to Your Windows 8 Desktop
When first opened, the Windows 8 desktop contains only three icons: the Recycle Bin lives in the top corner; the taskbar's left corner offers File Explorer (for browsing your own files) and Internet Explorer (for browsing the world's offerings on the web).
Everything else requires a trip to the Start screen. Until you follow these steps, that is: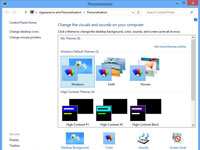 1

Right-click a blank portion of your desktop and choose Personalize.

The Personalization window appears.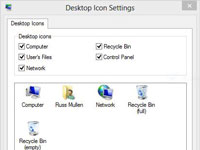 2

On the Personalization window's left side, click the Change Desktop Icons link.

The Desktop Icon Settings window appears.
3

Put a check mark in the top five boxes: Computer, User's Files, Network, Recycle Bin, and Control Panel. Then click Apply.

Shortcuts for those five icons appear on your desktop for quick and easy access.
4

Remove the check mark from the option labeled Allow Themes to Change Desktop Icons.

That ensures that those icons will stay put, even if you drape your desktop with a decorative theme.

After those icons appear on your desktop, feel free to drag and drop them any place you'd like. Chances are good that they'll save you quite a few trips to the Start screen.

For more information about Windows 8 and its features, explore Windows 8 For Dummies, available online.