How to View Photos Using Windows 7's Windows Media Center
How to View Photos Using Windows 7's Windows Media Center
Windows 7 is full of fun stuff to keep you entertained, from watching TV to viewing your photos. The Media Center interface is its big attraction. It's sleek, blue design doesn't look anything like other Microsoft windows. The Media Center allows you to access the digital photos that are stored in your Picture Library, which you can shuffle through or view as a slide show.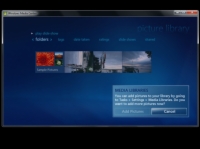 3

Find and double-click the Picture Library by scrolling horizontally through the submenu.

To view more submenu options, move the mouse pointer to the right, highlighting each one as you go, and then click to select the one you want to use. Alternatively, you can press the Pictures button on the Media Center remote control.

The Media Center displays all the digital photos it has catalogued in your Picture Library by date.
4

To display the photos in a particular folder, click a folder's thumbnail in the Media Center window.

This lets you dig deeper into your picture folders.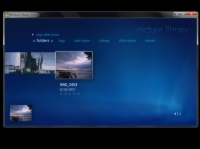 5

Click a photo to see information about it at the bottom of the screen.

If you're using the Media Center remote control, press the right arrowhead icon (with the black triangle pointing to the right) and then click the OK button to select the one you want to use.

If you want to move back to a previous level of the menus and submenus, just click the Back button (the black arrow pointing left) either on the top of the screen or on the Media Center remote control.
6

Position the mouse pointer on the left or right edge of the screen where you see the < or > symbols that appear on the screen.

You'll fly quickly (really quickly) through the photos.
7

Double-click a thumbnail to see an image at full size.

To return to the thumbnails, click the Back button in the upper-left corner.
8

Start a slide show by clicking the Play button in the onscreen playback controls.

The Media Center automatically scrolls through each of the images one after the other.