How to Use Windows 7's Aero Peek to Flip Between Windows
How to Use Windows 7's Aero Peek to Flip Between Windows
Aero Peek lets you quickly flip through open windows and programs in Windows 7. This new desktop enhancement in Windows 7 allows you to see through all of the things that are on your desktop and decide which you want to access. You can use it to reveal your desktop icons and to view, close, and switch between all your open windows by hovering over the icons on the taskbar.
Aero Peek replaces the old Show Desktop icon in the Quick Launch toolbar and the Flip function (Alt+Tab), although Flip is still available. Here are some of the ways you can use Aero Peek in Windows 7.
1

Open Notepad, Calculator, and Solitaire.

You'll want all three programs running. Now, you're juggling.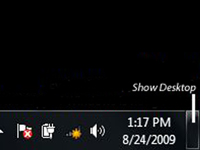 2

Hover the mouse over the glass rectangular area at the far right of the taskbar.

Unlike many of the taskbar icons this glass panel is permanently docked to this location.

If you have the Starter Edition of Windows 7, Aero Peek is unavailable. If you have a different version of Windows 7 and still are not able to see the Aero Peek thumbnails, your graphics card probably doesn't support it or someone turned off the preview feature using themes.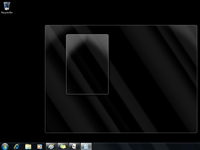 3

Notice that all the windows on your desktop have become invisible.

The windows on your desktop have been replaced with windows outlines. And all the icons on your desktop are now visible.

You can't actually click hidden shortcuts this way, because the windows will reappear as soon as you move your mouse, but you will be able to view Sticky Notes and gadget content.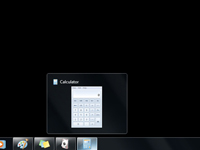 4

Hover your mouse over the taskbar button for one of your open applications.

A small thumbnail appears above the button showing you a preview of what is on the window. If more than one window is open for that application, you'll see a glass panel above the button with a thumbnail for each of the open windows.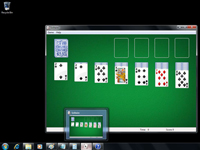 5

Hover your mouse over the taskbar button for Solitaire and then slide your mouse up into the thumbnail that appears above the button.

You'll see that the Solitaire window appears on the desktop in its original size.
6

Click the Solitaire thumbnail and move your mouse on to the desktop.

The Solitaire window becomes the top window on the desktop. The other windows are still there in their original size; they are just laying beneath the Solitaire window.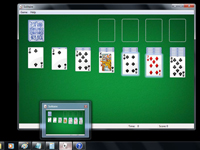 7

Hover your mouse over the Solitaire taskbar button and slide it back into the thumbnail.

Notice the little red x in the top right corner of the thumbnail pane.
8

Click the red X above the Solitaire thumbnail.

The Solitaire program will close entirely.