How to Use the New WordPad in Windows 7
How to Use the New WordPad in Windows 7
With the new version of WordPad that works with Windows 7, you can now create a formatted document without having to use a full-blown word processor like Word. Microsoft beefed up the capabilities of the WordPad program to include a Scenic Ribbon full of editing and formatting tools. Windows Live WordPad provides a virtual pad for jotting down ideas, making notes, creating small documents, or entering programming code.
Although WordPad isn't as robust as some mainstream word processors, it's a great choice for creating simple documents with a few formatting bells and whistles.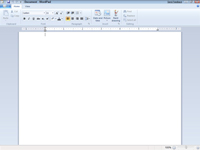 1

Choose Start→All Programs→Accessories→WordPad to open the WordPad window.

The WordPad window opens with a blank document.
2

Enter text into the document. Click and drag to select the text, and then click the Home tab.

The font settings and most of the formatting settings are on the Home tab.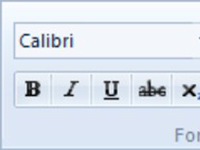 3

Adjust the font settings to your liking.

You can change the Font, Font Style, and Size, as well as apply subscript or superscript effects. You can also modify the font color and change the font background color, by clicking the appropriate buttons.
4

Click various other formatting tools, such as the alignment buttons or the Bullets button on the Ribbon.

The selected text will change to accept the new formatting.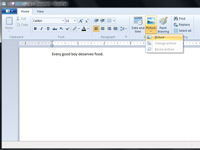 5

Click the Picture button in the Insert area of the Home tab on the Ribbon to insert a picture.

The Select Picture dialog box appears.
6

Click an image in your Picture folder and then click Open.

You can also search for an image stored elsewhere on your computer using the folder pane on the left.
7

Modify the inserted object however you want.

For example, you can move it or resize it.