How to Play Music Using Windows 7's Windows Media Center
How to Play Music Using Windows 7's Windows Media Center
Windows 7 is full of fun stuff to keep you entertained, from watching TV to listening to your favorite music. Although Windows Media Player is the first thing most people think of when they think of playing music in Windows, the Windows 7 Media Center is also a great place to unwind with your favorite music from your Music library or listen to your favorite Internet radio stations.
The Media Center interface not only lets you access your Windows 7 Music Library, but it is also capable of tapping into your home theater system to take your music to a new level. And Windows Media Center sleek styling has a much more sophisticated feel than WMP.
2

Launch Media Center and locate and double-click the Music option.

Scroll vertically through the main menu items.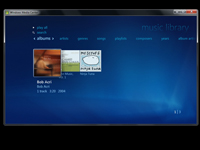 3

Click the Music Library option in the submenu.

You can also press the Music button on the Media Center remote control to open the Music library screen in the Media Center.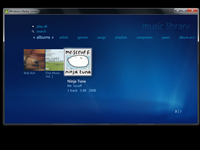 4

Click an album thumbnail in the Music library screen.

Note that the Album Details screen includes a listing of the tracks available and information about the album and artist.