How to Create and Send E-Mail Messages in Windows Live Mail
How to Create and Send E-Mail Messages in Windows Live Mail
Windows Live Mail (available as a free download from the Windows Live download page) allows you to quickly create e-mail messages from any computer that's connected to the Internet. E-mail is the cornerstone of online communication, and with Windows Live Mail, creating and sending e-mail is a breeze:
1

Go to the Windows Live home page using your browser.

If you need to start a new account at this point, click the Sign Up button and go through the sign-up procedure first.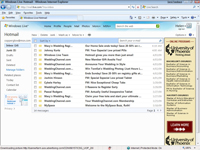 2

Sign in and then click the Mail button on the Windows Live screen to go to your Inbox.

Windows Mail will automatically send and receive any waiting messages.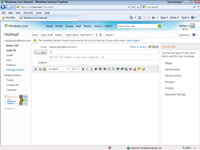 3

Click the New button to create a new, blank e-mail form.

A new, blank e-mail form appears with your address in the From box.
4

Type the e-mail address of the recipient(s) in the To field text box.

Windows Mail will also automatically offer to fill in the rest of a stored address while you type in the To field. When it fills in the correct name, just press Enter to select it.

You can use the Address Book feature to help you address your message. Click the To button, and your Address Book appears. Select your contact(s) from there.
5

(Optional) Click the Show Cc & Bcc link and enter any additional address(es).

This will send a copy of the message to the additional addresses.
6

Click in the Subject field text box and type subject.

Subjects should be concise yet descriptive. Don't send e-mail without a subject; it will likely be discarded as spam.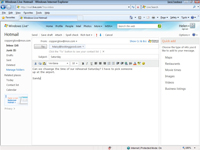 7

Click in the message window and type your message.

Keep it short and sweet. If you have lots to say, consider sending a letter by snail mail or picking up the phone. Most people would rather read three short messages than one long one. Also keep e-mail etiquette in mind. Don't type in ALL CAPITAL LETTERS. This is considered shouting, and it's rude. Be polite even if you're really, really angry. Your message could be forwarded to just about anybody, just about anywhere, and it can definitely come back to bite you in the end.

Click the High Importance button (the red exclamation point) to alert the recipient that a message is urgent. If you change your mind, click the Low Importance button (it looks like a blue downward-pointing arrow) to return the priority to Low.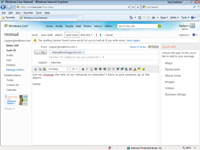 8

Click the Spell Check button on the message toolbar. Correct any errors.

Windows Live automatically checks spelling and places a red-wavy line under questionable words. If you want to recheck the messages for errors, click the Spell Check button again.