How to Create a Personal Information Card with Windows CardSpace
How to Create a Personal Information Card with Windows CardSpace
Windows 7 includes a new security feature called Windows CardSpace that lets you create a personal information card. CardSpace cards are like digital identity cards that contain personal logon information. Trusted Web sites can use these identity cards as an added form of security to ensure that you are who you say you are.
CardSpace stores your information in either personal cards — the kinds information you night need to log on to social networking Web sites — and managed cards — which are sent to you by trusted Web sites and contain all the credit card and other personal identity information that you supply them in the course of doing business.
To add a new personal information card to your CardSpace: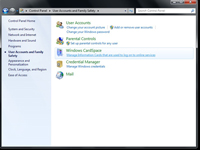 1

Click the Windows CardSpace link in the initial User Accounts Control Panel. Click OK.

If a card has already been created for your account, Windows dims the desktop and displays a Windows CardSpace dialog box that shows all the cards you've created.

You can also access CardSpace by clicking the Start Menu and typing CardSpace. Then just select it from the results list.
3

Select Create a Personal Information Card.

Your new card will contain encrypted personal identity information that you can send to trusted Web sites.