How to Back Up Documents and Photos in Windows 7
How to Back Up Documents and Photos in Windows 7
If your computer is stolen, lost, or destroyed, you can replace it, but your data files will be lost — unless you've taken the time to back up your documents and photos. Any computer can have problems — even the newest and most improved computer out there. The only way to ensure that the same fate doesn't befall your files is to protect them.
1

Click Start and type

backup

in the Search Programs and Files text box. Choose Backup and Restore.

The Backup and Restore window opens.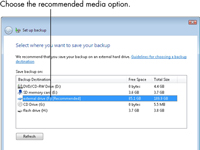 3

Select where you want to save your backup from the list box. Click Next.

Suitable backup media include an external hard drive (best option), a memory card (like the kind you use in a camera), a flash drive (portable USB cards), and DVD-R or CD-R (worst option). Removable media (such as discs, memory cards, and flash drives) are marked as unsuitable for a system image, but that's something different than a backup, so you're okay to use those here.

If [Recommended] appears next to one of the choices, that's the one you should use. If none is recommended, choose the media with the most free space. If the Save Backup On list box is empty, you don't a device to back up to. Attach or insert the backup media you intend to use and click the Refresh button.
4

In the What Do You Want to Back Up? dialog box, select either Let Windows Choose or Let Me Choose.

If you choose Let Windows Choose, all data files in standard libraries and folders for all users are backed up, and a system image is created if there is enough room. If you choose, Let Me Choose, only data files in the folders you select will be backed up.

Only one of these options may be available, depending on the backup media you chose in the previous steps.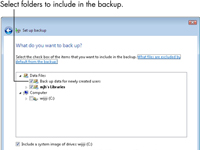 5

If you selected Let Me Choose, this is your chance to select the folders you want backed up. Click Next.

The data files for your username should remain selected. You need to select other folders only if you store files outside of the standard Windows 7 user folders.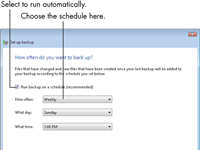 6

Review your backup settings. Click the Change Schedule link, and decide how often you want to perform the backup. Click OK to close the dialog box.

When setting up an automatic backup system, you need to decide: How Often (daily, weekly or monthly); What Day; and What Time. Be sure to schedule a backup when the computer is likely to be on but not in heavy use, such as dinner time.

If you use removable media, such as a flash drive, be sure to leave it plugged in when the backup is scheduled. If you don't want the backup to run automatically, deselect the Run Backup On a Schedule check box.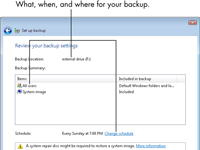 7

In the Review Your Backup Setting dialog box, click the Save Settings and Run Backup button to begin the backup.

The original Backup and Restore window appears with an indication that the backup is in progress.
8

Click the View Details button if you want the nitty-gritty; click Close to return to this dialog box.

Don't shut down or turn off the computer until the backup is complete. Leave your computer on overnight, if necessary.

Although you can use the computer during backup, the process may be faster if you don't run other programs at the same time.