How to Choose an Account Picture in Windows 10
How to Choose an Account Picture in Windows 10
In Windows 10, your account picture appears on the password screen and the Start screen. (If you haven't selected a picture yet, your picture may just be an outline.) But, you can change this to any picture you want.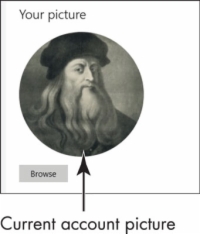 1

On the Settings screen, select Accounts.

Your current Account picture appears in the Accounts screen, as shown.
2

To choose one of your photos, select the Browse button.

The contents of your Pictures folder appears in the Open dialog box. From here, you can select the Up button to access any folder on your computer or select a subfolder to open. When you find the picture you want, select it and then select the Choose Picture button. Or select Cancel to return to the previous screen without changing your account picture.
3

If you have a built-in or attached camera (called a webcam), select the Camera app under Create Your Picture.

The Camera app opens with a preview of what your camera sees.

You may be able to use another app to select or create a picture. Select the app under Create Your Picture.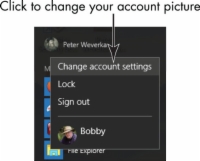 4

To return to the Start screen to see your new account picture, click or tap the Start button or press the Windows keyon your keyboard.

The easiest way to access the Accounts screen and change your account picture is through your account name. In the upper-left corner of the Start screen, select your name and then select Change Account Settings, as shown. Voilà! The Accounts screen appears, with Your Account selected.