How to Make a QuickTime X Video Podcast on a Mac
How to Make a QuickTime X Video Podcast on a Mac
The QuickTime Player in QuickTime X lets you capture audio and video on your Mac for a podcast or short video. To create the video, QuickTime X uses the iSight or FaceTime camera built into your Mac.
1

Launch QuickTime Player and choose File→New Movie Recording.

Assuming that you're using the built-in iSight or FaceTime camera on your Mac, you'll see your own handsome face. This allows you to fuss with your makeup, adjust the lighting in the room, and so on.
2

When you're all set, click Record.

When you're finished, click Record again. It's that simple. The movie is saved in the Movies folder on your Mac.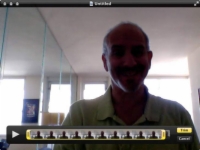 4

To edit your little gem, click Edit→Trim.

The trimming bar appears at the bottom of the screen. Drag the playhead (the red vertical line) to find the footage you can live without. Then use the yellow handles at the start and end of the Trimming bar to select only that portion of the video that is worth preserving. Click Trim and you're finished.