High Sierra
It's not just a mountain range in California. It was also a hugely popular MacOS release. Click here to get cheat sheets, shortcuts, and more.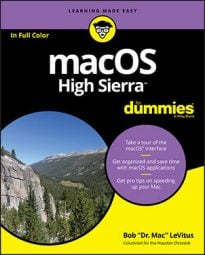 High Sierra
macOS High Sierra For Dummies
MacOS X For Dummies is the ultimate tour guide to the Mac operating system, written by Bob "Dr. Mac"" LeVitus himself! Whether you're upgrading your trusty old MacBook or venturing into new territory for the very first time, this easy to use guide will get you up and running quickly. It's all here: navigation, preferences, file management, networking, music and movies, and so much more."
Explore Book
Buy On Amazon