How to Create a New Wiki and Set Access in Lion Server
How to Create a New Wiki and Set Access in Lion Server
Any server can host a website, but Lion Server creates a complete, dynamic site for you, prebuilt. By merely turning on web and Wiki services, every user gets an automatically updated web portal called My Page. Users get access to a collaborative environment that includes wikis, blogs, web calendars, and mailing lists. Both administrators and users can create a wiki. Just follow these steps: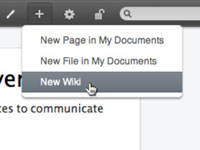 1

Bring up the Create New Wiki dialog.

You can bring up this dialog in one of two ways:

From the Server app, administrators can create a wiki from a Group's page. Click Groups in the sidebar and double-click the name of a group in the list. Then click the Create Group Wiki button.

From one of the web pages of the built-in website, a user can click the Add (+) button in the upper right and choose New Wiki.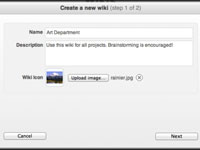 2

In the Create a New Wiki dialog, type a name and description for the wiki and then click Next.

Optionally, before clicking Next, click the Upload Image button to add a photo or image to be the icon for the wiki. A 48-x-48-pixel image is optimal, but any image will work.
3

In the Set Wiki Access dialog, choose an access permission for each type of user.

By default, three items appear: you (the owner); Any Other Logged In User; and All Guests. For each, you have the following choices from the pop-up menus: Owner (can change settings), Read and Write, Read Only, and No Access. (Here, you're creating a type of access control list, used in file sharing.)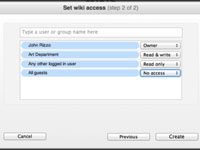 4

To add another user or group, type a name in the empty field at the top, hit Return, and then choose a type of permission.

For example, you can add the Art Department and set permission to Read and Write.
5

Click the Create button and then click the Go to Wiki button.

The home page for the new wiki appears, in editing mode.
6

Make changes by clicking the pencil icon in the toolbar.

You can also create a new page for the wiki by choosing the Add (+) menu in the upper right and selecting New Page from the pop-up menu. Users who don't have write permissions for the wiki won't see this option in the menu.