How to Create a DNS Machine Record for the Lion E-Mail Server
How to Create a DNS Machine Record for the Lion E-Mail Server
In addition to an MX record, the DNS zone needs to have an entry called a Machine Record (A) defined for the Lion Server mail service, using the same Mail server hostname that you used in the MX record.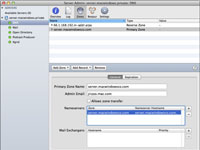 1

Click the triangle to the left of the selected zone to display the list of records for that zone.

If you see an entry for your mail host, you're done.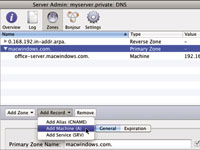 2

Click the zone to select it and choose Add Machine (A) from the Add Record pop-up menu just below the zone list.

A record called newMachine is added to the zone.

[img id:303662]
[img id:303663]
3

With the new machine record still selected, go to the Machine Name field below and type the hostname of the mail server.

In this example, the hostname is mail.
4

Change the IP Address to the address of the mail server.

Double-click the default IP address (10.0.0.1) to select it and replace it with the IP address of the Mac server.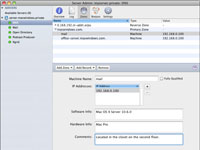 5

(Optional) Enter the hardware and software information about your server in the appropriate boxes.

You don't have to enter this information, but it is a good idea for documentation purposes.

You might want to use the Comments box to include the location of the server or any other information that might identify it.
6

Click the Save button.

Your machine record has been added to the DNS server.