How to Change Mac Snow Leopard's Printing and Fax Preferences
How to Change Mac Snow Leopard's Printing and Fax Preferences
Mac OS X Snow Leopard lets you change printing and fax preferences to meet your needs. To access these settings, click the gear icon on the Dock. When the System Preferences panel opens, choose Print & Fax.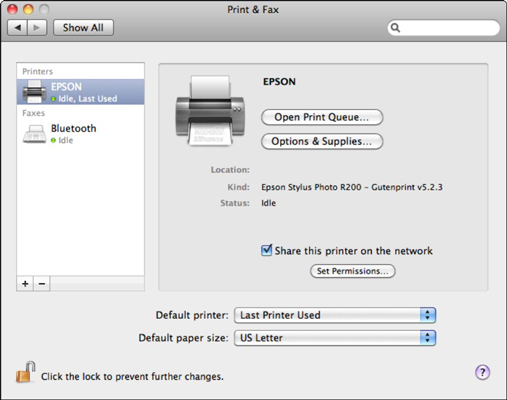 Click the Options & Supplies button to configure the selected printer's features, and click the Open Print Queue button to display the Print Queue window (no great shockers there). To add a new printer or fax connection, click the Add button, which bears a plus sign. Snow Leopard launches the Browser.
The other settings here are
Share This Printer on the Network: Click this check box to share this printer with other computers on your network. To specify who can use your shared printer, click the Set Permissions button. System Preferences switches to the Sharing pane, where you can add or remove users from the permission list.

Default Printer: Click this pop-up menu to select the installed printer that acts as the default printer throughout your system. If you choose Last Printer Used, Mac OS X uses the printer that received the last print job.

Default Paper Size: Will that be US Letter or Tabloid? Click this pop-up menu to specify the default paper size for future print jobs.
If you've added a fax entry to the list, click the entry to set up the fax send/receive functions built into Snow Leopard. To receive faxes on your Mac, you must first set up a fax connection; then, click the Receive Options button and select the Receive Faxes on This Computer check box.
After faxing is turned on, you can configure the other settings from the Print & Fax pane and the Receive Options sheet. These settings include
Fax Number: Enter the phone number that others call to reach your Mac.

When a Fax Arrives: You can determine how many times the phone rings before your Mac answers the incoming call. By default, Mac OS X saves the incoming fax to your Shared Faxes folder, but you can change that location or you can choose to print the incoming fax on the printer that you specify. Heck, if you like, you can send your fax to both destinations (a disk folder and a printer), or even mail the fax to the e-mail address you specify.
If you send and receive a large number of faxes, make sure you enable the Show Fax Status in Menu Bar check box.
You can also allow other computer users on your local network to send faxes through your Mac. Enable the Share This Fax on the Network check box, and your Mac's fax modem appears when the other users add a fax connection.