How to Change Mac Snow Leopard Sharing Preferences
How to Change Mac Snow Leopard Sharing Preferences
If you share your Mac with other users, you will be glad to know you can access sharing preferences that determine who has access to what. For example, you can share files printers, and even the screen. To access Sharing Preferences, click the gear icon on the Deck and choose Sharing Preferences from the system Preferences panel that displays.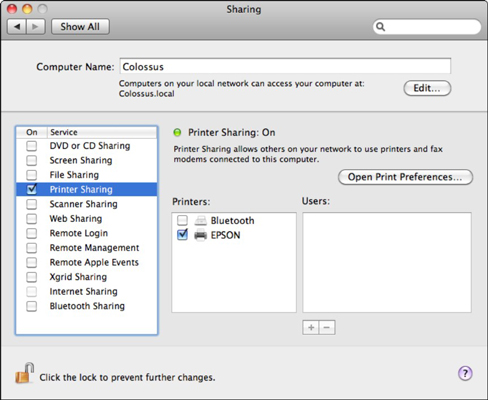 Click the Edit button to change the default network name assigned to your Mac during the installation process. Your current network name is listed in the Computer Name text field.
Each entry in the services list controls a specific type of sharing, including DVD or CD Sharing, File Sharing (with other Macs and PCs running Windows), Web Sharing, Screen Sharing, Remote Login, Remote Management (using Apple Remote Desktop), Remote Apple Events, Xgrid Sharing, Internet Sharing, Bluetooth Sharing, Scanner Sharing and Printer Sharing. To turn on any of these services, select the On check box for that service. To turn off a service, click the corresponding On check box to deselect it.
For maximum security, enable only those services that you actually use. Each service you enable automatically opens your Snow Leopard firewall for that service.
When you click one of the services in the list, the right side of the Sharing pane changes to display the settings you can specify for that particular service. Note that some services may be disabled — for example, if you don't have Bluetooth hardware installed on your Mac, the Bluetooth sharing service isn't available.