Teams
Teamwork makes the dream work. Learn how to install and use Microsoft's popular conferencing and collaboration software.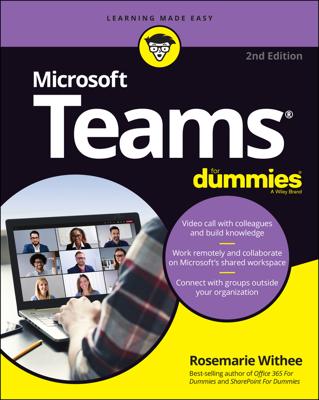 Teams
Microsoft Teams For Dummies
Work seamlessly together with Microsoft Teams It was only a matter of time before Microsoft 365 built an actual virtual office. And Microsoft Teams is it, rocketing from 13 to 75 million daily users in a single year. The new edition of Microsoft Teams For Dummies gives you an in-depth introductory tour through the latest version of the app, exploring the many different ways you can chat, call, meet, work remotely, and collaborate with others in real time—whether you're using it as an all-in-one tool for working from home or as an extension to your brick-and-mortar office. Available as a stand-alone app or as part of Microsoft 365, it allows you to work seamlessly with almost any other Microsoft app. The friendly onboarding provided by this book takes you from the basics of file-sharing, organizing teams, and using video to must-have insights into less obvious functionality, such as posting the same message to multiple channels, muffling background noise (useful if you're working from home!), and choosing more than one feed to concentrate on when video-conferencing (allowing you to pay attention to the speaker and your team members at the same time). As well as clueing you in on how things work, you'll also find advice on the most effective ways of using them, with best-practices recommendations and tips on integrating Microsoft Teams into your existing workflows. Set up the interface Communicate on chat and video, inside and outside your org Integrate Microsoft Teams with your other Office apps Optimize your approach to meetings, working across large teams, and more! Whether you're using Microsoft Teams for work, within your family, or for a collaborative hobby, you'll find everything you need to get everyone on the same page in the same virtual room.
Explore Book
Buy On Amazon