Microsoft Teams is a communications and collaboration product that was announced only a few years back. It then went on to become the fastest growing product in the history of Microsoft. Teams supports just about any manner of instant and asynchronous communication. For example, you can send messages, call others using audio and video, and conduct online meetings — all within Teams. In addition, you can share digital content and collaborate in real time.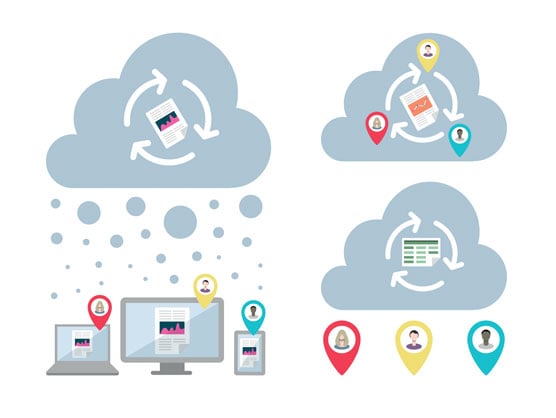 ©Round Pebble Design/Shutterstock.com
Think of Microsoft Teams as a dashboard into your online work. And, of course, Teams integrates closely with the rest of the Microsoft products such as SharePoint, Word, Excel, PowerPoint, OneNote, and Outlook, just to name a few.
Getting Started: How to Use Microsoft Teams
Microsoft Teams is available either as a free, stand-alone app that you can download from the Internet, or as part of a bundle of software, such as Microsoft 365. The free, no-commitment Microsoft Teams app offers such features as unlimited messages and search capabilities, 10GB of shared storage across the app, and audio and video calls between members.
The more robust version of Teams available through a subscription to Microsoft 365 provides all of those features as well as a whole host of others, including 1TB of storage per organization; Exchange email hosting; access to OneDrive, SharePoint, and other Microsoft 365 services; enhanced security features; and 24/7 phone and web support among other administrative tools. Get details about the differences between the various Teams versions.
You can install Teams on the following operating systems:
Windows: The odds are good that if you are using a Windows computer, you are likely using Windows 10. However, if you are in an organization that uses an older version of Windows, you can still install Teams. Since Teams was launched, it has been supported on all versions of Windows since Windows 7.
Mac: Teams is available on MacOS computers, and works exactly like Microsoft Teams for Windows.
Linux: Many software developers and tech enthusiasts use the open source and free operating system, Linux. Microsoft Teams for Linux is the first Microsoft 365 app available on Linux desktops.
iOS: If you have an iPhone or iPad, it uses the iOS operating system. You will find the Teams app in the Apple App Store.
Android: The bulk of all smartphones run the Android operating system. You will find the Teams app in the Google Play store.
Web browsers: If you cannot install the Teams client on your device, you can always use your web browser and log in to Teams. The web version of Teams offers a way to access Teams from computers that you might use at a coffeeshop or at a friend's house. Just be sure to log out and only use trusted computers!
How to Navigate Microsoft Teams
The Teams navigation menu is found on the left side of a traditional computer or laptop screen and along the bottom of mobile devices. You can add new navigational items to the list by creating policies or installing apps. By default, the main components of Teams navigation include:
Activity: The Activity feed is where you will find notifications about things going on around Teams. For example, if there is an unread message in a channel or someone sends you a chat message, you will see it appear in your Activity feed. Think of it as your one-stop shop for everything that has happened in Teams since you were last there.
Chat: The Chat area is where you find all your personal and group chats. There is a subtle difference between conversations in chats and conversations in channels. You can think of chats as ad hoc messages to another person or a few other people. Chats come and go and are spontaneous, whereas a channel is a dedicated area that persists and where people can communicate about a specific topic.
Teams: The namesake of the product itself, the Teams area is where you find the teams you have set up. You can browse through the channels for each team and send messages and conduct meetings. You can also create new teams and manage existing teams.
Calendar: The Calendar area is focused on your calendar of events and meetings. If you have ever scheduled a meeting in Microsoft Outlook, you will be all too familiar with working with your calendar in Teams. Note: The calendar is closely integrated with Outlook, so if you don't have Outlook installed, you won't see the Calendar item in the navigation.
Calls: The Calls area is where you view information about your audio and video calls. You can start a new call, see a history of calls, set up speed-dial contacts, and check your voicemail.
Files: The Files area is where you can save and share digital files. If you have ever used SharePoint or OneDrive, you will be happy to learn that you are already ahead of the game. Teams uses SharePoint and OneDrive behind the scenes of Teams, and at any point you can jump out of Teams and open the files in the SharePoint or OneDrive applications.
Microsoft Teams Instant Messaging and Calling
Sending instant messages is a key concept in Teams. You can send a message to a channel within a team, or you can send a message as a chat to one or more people.
To send a message to a channel, select Teams from the left navigation pane and then select the channel. The channel will load, and you will see any past messages in the center pane. To send a message to the channel, type in the textbox at the bottom of the screen and select the send message icon, which looks like a paper airplane. Anyone in the channel will be able to see your message the next time they look at the channel.
To send a message to one or more people as a chat, select Chat from the left navigation pane and then select the New Chat icon at the top of the list of chat messages. The icon looks like a pencil writing on a piece of paper. Enter the name, or names, of the person, or people, you want to send the message to and then type your message in the textbox at the bottom of the screen. To send the message, select the send message icon, which looks like a paper airplane.
You can also make a call to another person using Teams. If the other person is another Teams user, you can make the call using video, too. To make an audio or video call to another Teams user, just look for that person's name within Teams. When you hover your mouse over the name, you will see a video camera icon and a telephone icon. Select the video icon to start a video call, and the telephone icon to start an audio call. If you need to dial a phone number, select Calls in the left navigation pane and select the icon to Make A Call.
If you have not set up voice within your Teams subscription, then you won't be able to make a call to a phone number. Likewise, if you, or the person you are calling, doesn't have a video camera set up, you won't be able to make a video call.
The Microsoft Teams Admin Center
The Teams Admin Center is where you manage Teams. You use your web browser to log into the Teams Admin Center. Once logged in, you find the navigation menu on the left side of the website. The main components of the Teams Admin Center navigation include:
Dashboard: The dashboard is your primary landing page for the Teams Admin Center. Here you will find information panels that include such information as user activity, organization information, and help and training links.
Teams: Use these settings to manage teams and team policies. You can add new teams and configure existing teams. You can also set up policies that define which features and settings a team can use.
Devices: These settings are used to set up and manage the devices on your network. You can set up configuration files that are used for devices you have approved for your organization.
Locations: Use these settings to set up physical geographic locations for use by Teams. You can set labels so that you can report on specific offices and set up 911 locations that are used by emergency services. These locations can be used for things like users and also for offices and buildings.
Users: In this section you can view information about Teams users and configure and set policies for individual users.
Meetings: These settings are used to configure meetings in Teams. Here you can set up and configure conference bridges, meeting policies, meeting settings, live event policies, and live event settings.
Messaging policies: Here you can set which features are available in chat and channels. A default org-wide policy is set by default, and you can add others.
Teams apps: These settings are used to set up policies and permissions for how Teams users can use apps. For example, Teams includes a default policy for people that have first contact with customers such as cashiers behind the checkout counter (often known as first-line workers). The Firstline Worker policy ensures that the Shifts app, which is used for tracking time for shift work, is pinned and available to everyone that has the policy assigned.
Voice: Voice call settings are configured with these settings. Here you can set up voice features such as adding a phone number, configuring devices, and conference calling options.
Policy packages: With these settings you can package up a group of predefined policies and apply them to groups of users. For example, for educational use, there are predefined policy packages for teachers and another policy package for students.
Analytics & reports: Here you can view and download reports about Teams usage. You will find usage reports for the Teams app, devices, live events, voice and text messages, and blocked users.
Org-wide settings: These settings affect your entire organization. You can configure settings for external access and guest access as well as general Teams settings. You can also configure holidays and set up resource accounts that are used for voice features like auto attendants.
Planning: Here is where you find tools to help with planning your Teams deployment. You will find a Teams advisor tool and a network planning tool.
How to Extend Teams with Apps
You can extend Teams by installing apps from Microsoft and other third-party software companies. There are five primary types of apps that you can install in Teams. These are:
Personal apps: These apps are tools for personal use, such as OneNote for content management and GitHub for developer tools.
Bots: Bots are installed into channels, and they can post messages to channels for things that you want the people in the channel to stay up-to-date with. For example, you might want to install the SurveyMonkey bot that sends messages about surveys to the channel. You can also interact with bots by sending them messages in the channel. For example, you might send a message to the Flow bot and have it kick off a repetitive task that you have developed in Flow.
Tabs: Tabs show up at the top of a channel in a team. For example, the Posts tab includes all the messages people have sent to the channel. You can add additional tabs so that people in the channel can select through them to see information. For example, if your organization uses FlipGrid for learning, you might install the FlipGrid app and add a FlipGrid tab for one of your learning grids.
Connectors: Use connectors to allow other software products and services to send messages directly into a Teams channel. For example, if use Zendesk for your support tickets, you can have Zendesk send messages on new tickets directly into your channel.
Messaging: Some apps extend and enhance the messaging experience in Teams. For example, if you use Zoom to capture and share video, you might want to add it as an app so that everyone can view and interact with Zoom videos directly in the messages in a channel.
About This Article
This article is from the book:
This article can be found in the category: