Rottweilers
Learn all about how to care for your rottie, right here.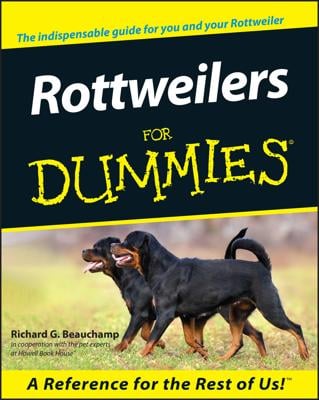 Rottweilers
Rottweilers For Dummies
Discover how to raise, train, and enjoy your Rottweiler with this fantastic resourceKnown for its great strength, endurance, and protectiveness, the Rottweiler can be a good-natured, playful pet. It can also be a highly challenging breed. In the right hands, a Rottweiler can be the best security system in town, and at the same time, an affectionate friend to the whole family, always ready for fun and games. The well-bred, well-trained Rottweiler has the courage of a lion and is happy to obey. In the wrong hands, a Rottweiler just as easily can become an unruly beast, a menace to all that come near. Is the Rottweiler the right breed for you and your family? Rottweilers For Dummies provides the answer to this and all your questions about getting, caring for and living with this big dog. Long-time Rottweiler breeder and trainer Richard G. Beauchamp gets you up and running with what you need to know to: Choose the right Rottweiler for you Socialize your new puppy Educate yourself and your dog Maintain good health, proper exercise and diet Handle behavioral problems Participate in dog competitions In friendly, down-to-earth language, Rick provides insights into the Rottweiler temperament and loads of sensible, easy-to-follow advice on everything a Rottweiler owner should know – along with fun facts and tips on how to have a great time with your Rottie. Discover how to: Decide on whether a male or female is right for you Find and choose your new friend and bring him or her home Understand how to communicate with your Rottweiler Train your Rottweiler Finding a good trainer and attend classes Deal with emotional conflicts Feed and exercise your Rottweiler Recognize, prevent, and treat common health problems Have loyal friend for life The indispensable guide for you and your Rottweiler, Rottweilers For Dummies is the only book you'll need to help you have the best possible experience with this admirable and loveable breed.
Explore Book
Buy On Amazon