Military Careers
Once a soldier, always a soldier. Get info on starting and managing your career in the armed forces, plus tips for surviving and thriving as a military family.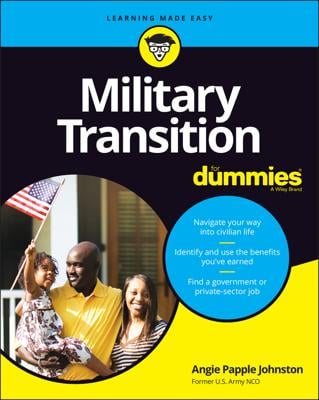 Military Careers
Military Transition For Dummies
All the things you need to know when you're putting the military in your rear view In Military Transition For Dummies, you'll talk a walk through how to transition from active military service to civilian life as smoothly and easily as possible. You'll discover how to make the nuts-and-bolts changes to reach your potential in your new lifestyle. From finding a job you love to navigating educational opportunities and keeping yourself mentally strong, this vital book shows you how to: Find your next career, including how to write an effective resume and conduct a thorough job search Protect your mental and physical well-being by seeking out and accessing the supports you want and need Manage your money and make the financial adjustments that are necessary for succeeding in the civilian world Perfect for active service members who are expecting to transition out of the military in the near future, Military Transition For Dummies is also ideal for anyone who's recently left the service and hopes to make the most of their new life.
Explore Book
Buy On Amazon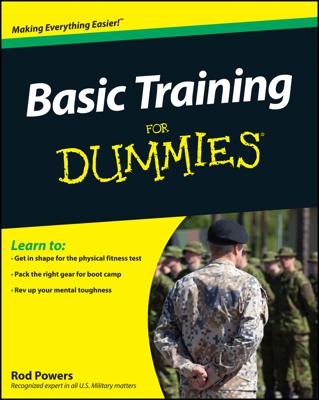 Military Careers
Basic Training For Dummies
The easy way to prepare for basic training Each year, thousands of young Americans attempt to enlist in the U.S. Armed Services. A number of factors during a soldier's training could inhibit successful enlistment, including mental toughness and physical fitness levels. Basic Training For Dummies covers the ins and outs of this initial process, preparing you for the challenges you?ll face before you head off for basic training.. You'll get detailed, week-by-week information on what to expect in basic training for each branch of service, such as physical training, discipline, classroom instruction, drill and ceremony, obstacle courses, simulated war games, self-defense, marksmanship, and other milestones. Tips and information on getting in shape to pass the Physical Fitness Test (PFT) All-important advice on what to pack for boot camp Other title by Powers: ASVAB For Dummies Premier, 3rd Edition, Veterans Benefits For Dummies Whether you join the Army, Air Force, Navy, Marine Corps, or the Coast Guard, Basic Training For Dummies prepares you for the challenge and will help you survive and thrive in boot camp!
Explore Book
Buy On Amazon
Military Careers
A Family's Guide to the Military For Dummies
Expert advice on all aspects of military life A Family's Guide to the Military For Dummies is for the millions of military dependents, family members, and friends who are looking for straightforward guidance to take advantage of the benefits and overcome the challenges unique to life in the military. This comprehensive guide covers such key topics as introducing military life to readers new to the armed forces, financial planning, relocation, deployment, raising kids alone while a partner is away, and taking advantage of the available benefits. It offers tips and advice for dealing with emotions that surround events like deployments, deciphering the acronyms used in daily military life, forming support groups, keeping track of a loved one's whereabouts, and surviving on a military base in a foreign country.
Explore Book
Buy On Amazon