Glycemic Diets Books
Get knowledgeable about blood sugar, the glycemic index, and how the glycemic load of common foods affects your weight, mood, and overall health.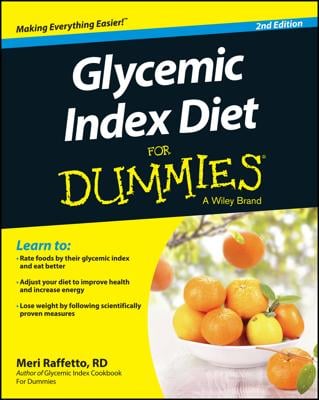 Glycemic Index Diet
Glycemic Index Diet For Dummies
Get proven results from this safe, effective, and easy-to-follow diet The glycemic load is a ranking system for carbohydrate-rich food that measures the amount of carbohydrates in a serving. The glycemic index indicates how rapidly a carbohydrate is digested and released as glucose (sugar) into the bloodstream. Using the Glycemic Index is a proven method for calculating the way carbohydrates act in your body to help you lose weight, safely, quickly, and effectively. The second edition of The Glycemic Index Diet For Dummies presents this system in an easy-to-apply manner, giving you the tools and tips you need to shed unwanted pounds and improve your overall health. You'll not only discover how to apply the glycemic index to your existing diet plan, but you'll also get new and updated information on how to develop a healthy lifestyle. Recommends foods that boost metabolism, promote weight loss, and provide longer-lasting energy Features delicious GI recipes for glycemic-friendly cooking at home Includes exercises for maintaining glycemic index weight loss and promoting physical fitness Offers guidance on shopping for food as well as eating at restaurants and away from home Glycemic Index Diet For Dummies, 2nd Edition is for anyone looking for an easy-to-apply guide to making the switch to this healthy lifestyle.
Explore Book
Buy On Amazon
Glycemic Load Diet
The GL Diet For Dummies
If you're sick of no-carb diets, or just looking for a healthy eating plan, then the GL Diet is for you. No more calculations, no calorie-counting and no more cravings for carbs – as long as you stick to foods that are low in GL, you can stay healthy and lose weight without having to go without. The GL Diet For Dummies explains the science behind the plan, helps you to incorporate GL into your everyday life and gives readers 80 recipes to try.
Explore Book
Buy On Amazon