Chicken Salad is a great low glycemic lunch or dinner that you can pair with a tossed green salad, a slice of sourdough bread or some rye crackers. Prepare it ahead and have it ready for lunch the next couple of days!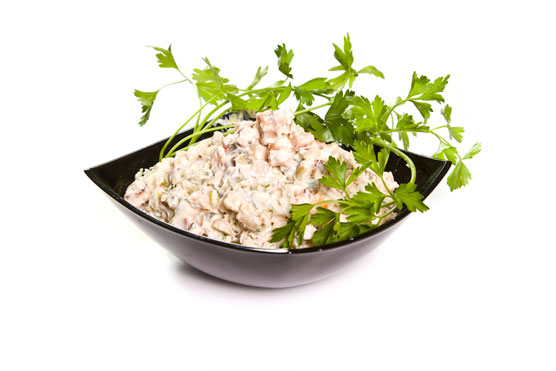 ©Cristi Lucaci/Shutterstock.com
Preparation time: 15 minutes
Yield: 4 servings
3/4 cup finely chopped celery
1/4 cup low-fat mayonnaise
1/4 cup low-fat plain yogurt
1/4 cup finely chopped green onions
2 tablespoons chopped fresh tarragon
3 tablespoons fresh lemon juice
1 teaspoon lemon zest
3 cooked boneless, skinless chicken breasts, cut into 1/2-inch cubes
1 green apple, cored and cut into 1-inch chunks
Salt and ground black pepper to taste
Mix the celery, mayonnaise, yogurt, green onions, tarragon, lemon juice, and lemon zest in a large bowl to blend.

Stir the 1/2-inch chicken cubes and 1-inch apple chunks into the mayonnaise mixture. Season with the salt and pepper.
Per serving:
Calories 240 (From Fat 46); Glycemic Load 1 (Low); Fat 5g (Saturated 1g); Cholesterol 91mg; Sodium 250mg; Carbohydrate 13g (Dietary Fiber 2g); Protein 34g.
About This Article
This article is from the book:
This article can be found in the category: