Camping & RVs
We've come a long way since the classic Winnebago. Check out our latest articles on the great outdoors, camping, and recreational vehicles.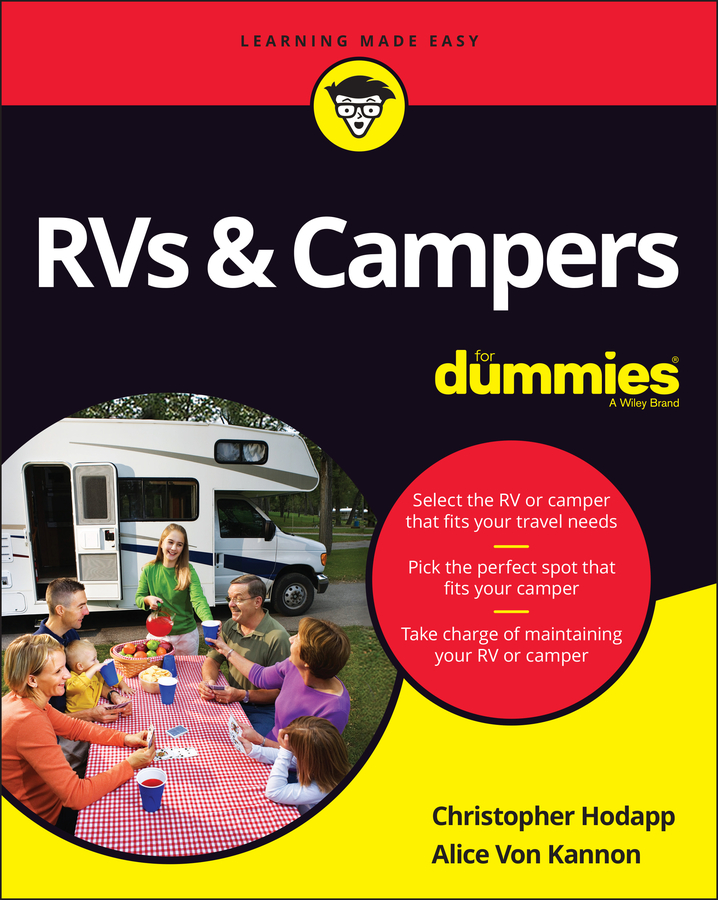 Camping & RVs
RVs & Campers For Dummies
Published 06-29-2021
Make yourself at home on the road
Live down by the beach one week and way up in the mountains the next? It sounds like an impossible dream, but motor-homers do it all the time. Whatever draws you to the mobile life—adventurous domestic vacations or permanently itchy feet—RVs & Campers For Dummies helps you feel right at home. The book explores the key aspects of glamping-with-wheels. Discover how it's possible to bring beauty spots right to your doorstep without sacrificing domestic comforts like a comfy bed, private bathroom, and wholesome, healthy home cooking!
In a down-home, friendly style, mobile-living veterans and husband-and-wife team Christopher Hodapp and Alice Von Kannon welcome you inside to discover everything from deciding to rent or buy the vehicle that best suits your needs to planning and prepping your first journey and then setting yourself up wherever you arrive at the perfect spot. Along the way you'll learn how to adapt your driving skills to pilot your home on the road, as well as how to keep every aspect of it shipshape and ready for action.
Explore your RV and camper options
Stock up with the right supplies
Get a snapshot of the mobile home lifestyle
Troubleshoot common problems
Getting there is half the fun—and this guide shows you how to do it safely and in style. So, buckle up (or relax in the back) … it's going to be a wild but incredibly comfortable ride!
Explore Book
Camping & RVs
RV Vacations For Dummies
Published 01-15-2020
Get ready to take your vacation on the road!
Vacations go by in a flash. With all the frantic travel arrangements, hotels bookings, and racing from place to place, it's a wonder they're considered a vacation at all! A great way to slow down and fully experience the sights is to hit the open road from the comfort of an RV. In this fully accessible book, you'll find the basics of what you need to know to get the most out of your RV vacation experience, including how to buy or rent an RV, safety best practices, and tips and tricks for planning the trip of your dreams. If you are planning a summer long adventure or simply a short weekend getaway, with this book you will discover proven ideas to keep your trip on track.
Even if you've never vacationed on wheels, you'll get a handle on the latest functions of RVs and the hottest RV vacation destinations. Whether you beach it, climb a mountain, or anything in between, the handy checklists and reminders inside help you to stay on course and rev up the best vacation you've ever had!
Choose your RV
Pick a great vacation destination
What to know before you go
Decide what items to bring
Outline your route and outfit your vehicle
Building an on-the-road budget
Whether you want to rent or buy, an epic RV vacation is at your fingertips!
Explore Book