If you're ready to hit the open road in a recreational vehicle (RV), you need to start by understanding the different types of RVs available. Unless you want to buy your own RV, you need to know where to rent one. Finally, if you're looking to camp for free, without the hassle of a campground and noisy neighbors, you need to know how to find free camping locations across the United States. Read on for all the information you need.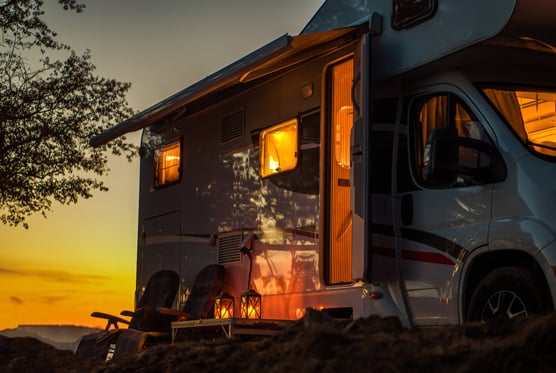 © Virrage Images / Shutterstock.com
What are the different types of RVs?
Before you go hunting for an RV, you need to know what different types of vehicles are out in the market. While there are loads of models that seem to straddle classifications, the RV industry has settled on these basic categories:
Motorhomes: Motorhomes are self-propelled RVs, with their own engines, steering, and braking systems, plus a living area that's accessible from the cockpit. Here are the different classes of motorhomes:

Class A: These are the big dogs of the motorhome world. They resemble a bus on the outside. Typically, Class As range in size from 25 to 45 feet and are built on top of an existing truck or bus frame. Most Class As have slides (expanding walls, sections, or entire rooms) to increase the amount of living space available. Class As are favored for full-time living because of their roomy interiors and homelike amenities. The majority are diesel powered, but there are some gasoline-powered models with the engine up front under the floor of the cockpit.
Class B: These are the smallest members of the motorhome market (but not necessarily the cheapest). Class Bs are built around an existing passenger or cargo van, but they're packed with all the basic RV amenities like kitchens, bathrooms, and fold-down beds. They're sometimes referred to as camper vans.
Class C: These are the midsize motorhomes. They're built on an existing truck or large van chassis. Class Cs are distinguished by an overhanging area over the roof of the truck cab, used as a sleeping bunk or cargo space inside. They're often less expensive than either Class A or B models, and there are many variations in floor plans of these versatile units. They come in gas or diesel models.
Super Bs and Cs (or Class B+ or C+): These models stretch the limits of average Class Bs and Cs to be as large as possible. Super Cs are sometimes available with an optional toy hauler "garage" area in the rear for hauling motorcycles, bikes, and other large cargo. Others have enlarged living spaces, like bedrooms with king-size beds, washers, and dryers.

Towables: Unlike self-propelled motorhomes, towables have to be attached to a separate towing vehicle in order to move anywhere. Here are the types of towables:

Traditional travel trailers: This is the broadest class of RVs available. They can be any style, shape, or size, ranging from 12 to 40 feet. At a minimum, they have a kitchen, a bathroom, and at least one bed.
Toy haulers: These are specialized trailers with a "garage" area in back for hauling motorcycles, bikes, or other large cargo. They're occasionally roomy enough to accommodate a small car.
Teardrops: This is a distinct style of small or micro trailer, with a rounded front end and a gently curving roofline that slopes down in the rear, like a comma laying on its side. They're usually suitable for no more than two people. Some designs feature a hatch in the rear that covers an outdoor kitchen, and the larger ones have some sort of onboard toilet.
Pop-up trailers: This is a lightweight, folding style of trailer that resembles a sprawling canvas tent on wheels when opened up. They usually have a tiny kitchen and onboard toilet and can often sleep as many as six. A variation of the popup is an A-frame shape with fold-up hard sides instead of a canvas tent.
Fifth-wheel trailers: This distinctive style of trailer has an extended front end that hangs over a pickup truck (or other dedicated truck) bed. These are the largest towables on the market, well suited for large families or full-time living. Some have as many as five slides to increase square footage inside. Like Class A motorhomes, they're the biggest and most feature-filled of all towables.

Truck campers: A truck camper is a hard-sided RV unit that plops onto the bed of a pickup truck. Often, they have an upper bed area that extends over the truck cab's roof. Extremely compact, they contain a tiny kitchen, bunk beds, and a sometimes a toilet. Ideal for one person, or two at most, but some manufactures are offering a tiny slide or two to make more room.
Renting an RV
Not sure an RV is right for you? Rent before you buy! Both traditional rental companies and individual owners have experienced explosive interest in RV rentals from tourists, weekend vacationers, sports tailgating fanatics, and more.
Traditional rental companies
A growing number of RV rental companies are scattered across the United States, but the largest and best known ones are the following:
Both companies offer one-way trip rates, which are popular with international tourists exploring the United States. A one-way rental lets you fly in to a city, pick up the RV, drive it across the country, and then turn it in at your final destination before flying home.
Because so many RV renters want to drive to explore the American West or the sunny South, there can tend to be a pile-up of their rigs at the most popular destinations. Both companies offer vehicle relocation deals if vacationers are willing to move a unit from those popular vacation spots back east or north again. They will also offer lower rates if you're willing to deliver a new RV from the factory to their primary locations around the country.
Private RV-sharing rentals
Airbnb changed the face of the hotel and travel business forever by connecting property owners with tourists. It was inevitable that a similar concept would take root in the RV world, especially with the massive number of new RVs hitting the market in recent years. Owners have come to the realization that the worst thing an RV can do is sit unused. And with prices on new RVs being what they are, it makes sense to try to recoup some of their investment by renting out their rigs.
If you're in the market for a new or used RV and you don't know what you want yet, renting may be the best way to get a feel for different models. Do it multiple times with very different rigs, just to discover what you like or don't like before letting an RV dealer's sales staff get to you.
Some of the best-known RV-sharing websites are the following:
Outdoorsy and RVshare: These are the two oldest and biggest peer-to-peer (person-to-person) RV-renting services, connecting owners with renters. Unlike the traditional RV rental companies that offer limited selections of vehicles, renters can quite literally find every size, type, and shape of trailer or motorhome available. Both companies provide insurance protection, roadside assistance, and online marketing of their rental listings, and they provide all application forms and other paperwork. Because of their similarities, many RV owners list their rigs with both of them.
RVnGO: This is the newest entry in the online, person-to-person RV rental business. Though it offers a smaller selection than Outdoorsy and RVshare, RVnGO is unusual in that its services are free: Owners aren't charged to list their RV for rent, and they receive 100 percent of the rental rate charged. Renters are not charged a fee, apart from a 3 percent credit card service charge. RVnGO can provides insurance coverage, but it's strictly a facilitator, connecting owners and renters. Owners may also list RVs for sale on the site.
RV Trader: Technically, RV Trader is a used RV sales website, but it also connects people with RV owners who want to rent out their units.
A great aspect of these services is that you'll find a much bigger choice of RVs you can rent, compared to the traditional rental companies. They don't just offer Class A or Class C motorhomes — you'll find everything from the tiniest teardrop trailers or the snuggest van campers, right up to the biggest motorhomes and fifth wheels.
Where to camp for free
In some parts of the United States, like California, private campgrounds in popular areas routinely charge over a hundred dollars a night. For this reason, free boondocking (camping without utility hookups) and low-cost camping on federal and state land is a popular option.
The federal government owns more than 650 million acres, and the agencies that run it have recreation programs and services, including campgrounds. Following is a checklist of the major federal agencies that offer low- or no-cost campgrounds, as well as the opportunity to boondock or do "dispersed camping," outside the designated campground—but only on land designated for camping. This is federal land—you'll see that word designated a lot.
On most government land, you can camp in the same spot for 14 days; then you must pick up and move, usually 25 miles away. But different agencies have different rules; this issue is often decided in a local field office of the agency in charge.
Here's a list of the major agencies that offer land for camping and boondocking. Each agency has a national website, and most states and individual national forests have one, too.
About This Article
This article is from the book:
This article can be found in the category: