Once you've decided whether you're going to live in a van full time or part time, you'll need to figure out what type and size of camper is right for you. There are so many different styles, sizes, and wheelbases out there that it can seem like a minefield if you don't know the lingo.

Luckily for you, I compiled a list of all of the different vehicle classes for you for reference:
Class A: These campers are the large touring vehicles you might see rock stars traveling in on the way to a gig. They are large busses with multiple rooms inside and what I would definitely class as luxury campers. This is not exactly the type of vehicle for an off-road adventure, but definitely one for a comfortable stay in the wilderness.
Class B: This class covers all conversions made within the pre-existing dimensions of a panel van, such as a Ram ProMaster or a Mercedes-Benz Sprinter (see the photo below). This is, by far, the most common class for DIY camper conversions.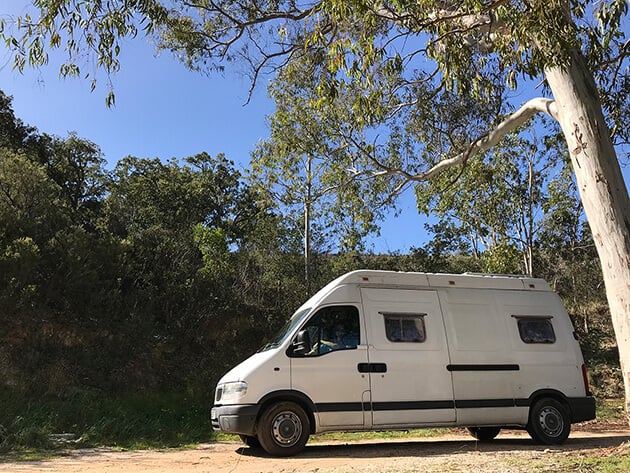 ©Sebastian Santabarbara
The author's Class B camper, hanging out near a hot spring in Spain.
Class C: These campers are what I like to call "traditional" campers — think snowbirds driving to sunnier climates in their Winnebagos when the first frost hits. Class C campers often have a sleeping area in the bulkhead over the top of the cab area and the telltale fold-out steps for entering the living area.
Truck camper: This type of camper is perfect for off-grid enthusiasts and usually consist of a removable camping pod with a pop-top roof that slots into the truck bed itself. I've spent a lot of time traveling the United States in a truck camper mounted on the back of a Dodge Ram and that setup never, ever let me down.
The All-American RV: If you watch a lot of movies, then chances are good you've seen families hitting the road in an all-American RV. And trust me, they're just as big in real life as they are on the screen. These are the type of vehicles that you might see trundling up to Glacier Point in Yosemite or cruising down to Big Sur in the summertime.
Classic camper vans: Whenever I hear the term, "classic camper van," there's only one vehicle that springs to mind — the Volkswagen bus and, specifically, the T2 Splitty, which is still the symbol of the swinging 1960s. These are most often the subject of restoration projects and can make for beautiful busses, though they often soak up money like a sponge due to continual repairs.
School bus: If you're used to canal boat living, then a school bus might be a good option for a faster-moving tiny home. With more space and plenty of light, they make a great blank canvas for a full-time home.
Vans also come in four wheelbase sizes: short wheelbase (SWB), medium wheelbase (MWB), long wheelbase (LWB), and extra-long wheelbase (ELWB). The wheelbase is the measured distance between the middle point of the front wheels and the middle point of the wheels at the back of the van. The longer the wheelbase, the more room you'll have inside the main body of the van to utilize for your conversion.
Picking the right-sized camper for you
You now know that van life isn't a one-size-fits-all kind of deal, so what sized camper should you opt for? Well, it all depends on what you want to get out of your van life experience and how often you're going to use your camper van. And then again, it's also down to personal preference.

Do you view standing up at all times as an essential feature, or do you prefer to go under the radar when boondocking? This will have a great effect on your decision whether to buy a small or larger van. Following, I touch on some of the most popular camper van styles for people carrying out conversions and the benefits they can provide.
Small campers and pop-tops
Small campers and pop-tops cover everything from minivan conversions and VW Caddys to VW California campers and the epic Sportsmobile 4x4. These are campers that many people would class as "day vans" — campers people take to the beach or the mountains for one or two days at the most.

There's one thing for certain: Small campers and pop-tops are certainly easier to park in everyday locations. I've taken both out on the road on different trips, and smaller campers can usually fit under height barriers that would otherwise thwart bigger vans like Ford Transits and Mercedes-Benz Sprinters.

A pop-top camper is a camper van with a roof that pops up when stationary (see the photo below). These campers can either have whole segments that push up or more commonly, a roof that pushes up into a triangular shape revealing canvas walls.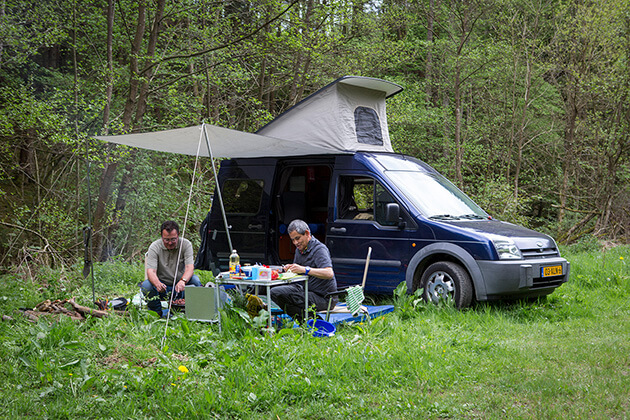 ©Ger Beekes / Alamy Stock Photo

A Ford Transit Connect camper with pop-top

Both small campers and pop-top vans tend to make use of a rock 'n' roll bed setup in which the bed doubles up as a sofa throughout the day and folds out into a bed at night. While this creates more living space, it does reduce the amount of garage storage in the boot of the camper, so that's something to think about if you're planning on living in a van for a long time.

Still, the added benefit of buying a pop-top camper is that the pop-top gives you extra space for standing and fills the camper with more light. It just depends on whether you mind setting up and packing down your living area every time you park and set off from a camping spot.

Keep in mind that in bear country, soft-shell pop-ups aren't allowed as bears can easily rip into them.

Some classic examples of vans in this range include:
Fiat Scudo
Ford Connect
Ford Econoline
Ford Transit (MWB)
Ram ProMaster City
VW Caddy
VW California
Maxi-roof and long wheelbase vans
Maxi-roof and long/extra-long wheelbase vans cover most of the larger Class B panel-van conversions that you will have come across on your favorite van life Instagram channels. They're the base vehicle type for many conversion companies across the world and are solid foundations for DIY camper conversions.

These vans might be harder to park and tougher to take down those windy country lanes, but they are certainly better suited for full-time living than smaller vans that are designed for stealth camping or compact living.

Larger vans like these are easier to cook in too; having that extra height to stand up in makes cooking more labor-intensive meals like roast dinners, risottos, and even dishes like sushi much easier. What's more, you have more space to include an oven as well as a gas burner.

For me, having the option of creating multiple "rooms" inside your van certainly helps it to feel more homey. By creating a bedroom nook, a seating area, and a separate kitchen space, a small vehicle can suddenly feel like three self-contained areas, which is perfect if you're traveling with a partner or family members and want to have time to yourself.

Some classic examples of vans in this range include:
Fiat Ducato
Ford Transit (LWB)
Mercedes-Benz Sprinter
Peugeot Boxer
Ram ProMaster
Vauxhall Movano
VW Crafter
What size is best?
If you're planning on living in a van for a long period of time, go for a Mercedes-Benz Sprinter or a Ford Transit LWB. They're reliable, spare/repair parts are available all over the world, and they're big enough to live in comfortably without having that extra space the ELWB models provide. For me, having everything set up and ready to go at the drop of a hat is super important.

If you're just looking for something for day trips that you don't mind not being able to stand up in, then choose a VW Caddy. Again, VWs are reliable vehicles, and with a clever design plan, you can easily make a pull-out kitchen that slots away neatly and carry a portable shower pack around for longer trips away.
About This Article
This article is from the book:
This article can be found in the category: