If you're new to RV vacations, you might have difficulty in choosing the right campground or RV park, selecting a cool museum to check out, or knowing which national park to include in your route. Here are a few ideas to get you started.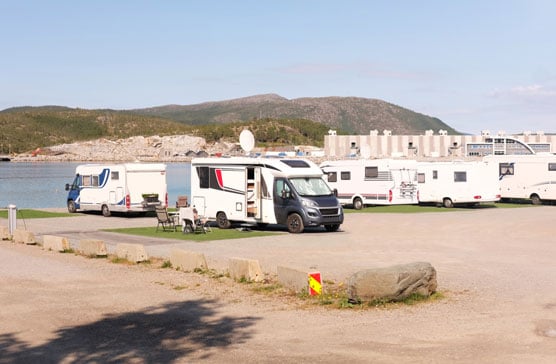 ©Maksym Kaharlyk/Shutterstock.com
Some of the best campgrounds
When it comes to choosing a place to stay, it could be as simple as good, better, or best or simply selecting between two choices from what is available in smaller less popular areas. Any campground offers a place to turn off the engine and sleep for a few hours, and sometimes that is enough. Over time you will develop your own criteria.
Museums that are well worth the visit
Admiral Nimitz Museum and National Museum of the Pacific War, Fredericksburg, Texas: Extensive coverage of World War II battles in the Pacific is located in the restored Nimitz Steamboat Hotel and Gardens.
Alabama Music Hall of Fame, Tuscumbia, Alabama: Although the museum contains only the work of musicians who were born or lived in Alabama, the list is extensive, including Nat King Cole, Dinah Washington, Lionel Richie, and Toni Tennille. It's a seeing-and-listening museum.
Biltmore Estate, Asheville, North Carolina: This museum is pricey but worth the expenditure. The massive 250-room Biltmore mansion and gardens give an extensive picture of how the other half once lived.
Buffalo Bill Center of the West, Cody, Wyoming: Five museums are set in a sprawling complex containing the Buffalo Bill Museum, the Plains Indian Museum, the Whitney Gallery of Western Art, the Cody Firearms Museum, and the Draper Museum of Natural History. You easily can spend an entire day (or more) here.
Farnsworth Art Museum, Rockland, Maine: This complex of consists of the Farnsworth Art Museum and the Wyeth Center in town, and the Olson House (celebrated in Andrew Wyeth's painting Christina's World) in the nearby countryside.
Hearst Castle, San Simeon, California: Built from 1919 to 1947, the building was never finished. Four different tours cover the interior and exterior of "The Ranch," as William Randolph Hearst dubbed his castle by the sea.
Museum Center at Union Terminal, Cincinnati, Ohio: The restored 1933 Art Deco railway station is now home to three excellent museums: the Cincinnati History Museum, the Museum of Natural History, and the hands-on Children's Museum.
National Baseball Hall of Fame, Cooperstown, New York: Baseball fans can spend several days perusing artifacts ranging from Ty Cobb's sliding pads to bats used by Mickey Mantle and Mark McGwire.
Ozark Folk Arts Center, Mountain View, Arkansas: The center was created in 1973 to preserve the music, dance, handicrafts, and folkways of the Ozarks. Wander among artisans and craftsmen at work and eat some down-home Ozark food.
The Rock and Roll Hall of Fame and Museum, Cleveland, Ohio: A modern glass building designed by I. M. Pei houses a huge collection of artifacts, such as life-size mannequins of John Lennon, Alice Cooper, and Michael Jackson, plus many of their instruments.
National parks along the way
Acadia National Park, Maine: This park has a 27-mile Park Loop Road, which makes a circle out of Bar Harbor and offers a good overview of the gardens, beaches, cliffs, and Cadillac Mountain.
Carlsbad Caverns National Park, New Mexico: A variety of caverns offers exciting, colorful underground tours. Join the evening crowd to watch 300,000 bats soar out of the cave for their evening meals.
Grand Canyon National Park, Arizona: This spectacular attraction can be crowded in summer. A good way to visit is to take the Grand Canyon Railway for a round-trip train ride out of Williams, Arizona.
Great Smoky Mountains National Park, North Carolina and Tennessee: Located at the end of the Blue Ridge Parkway, the park has an 11-mile, loop road off Newfound Gap Road that's a must-see.
Lyndon B. Johnson National Historical Park, Texas: Visitors see the birthplace, home, ranch, and final resting place of the former president. The park has two parts: Johnson City, has the visitor center, and the LBJ Ranch.
Petrified Forest National Park and Painted Desert, Arizona: Stop in the visitor center at the entrance to the Petrified Forest to get a map to use a loop road through both areas.
Shenandoah National Park, Virginia: Skyline Drive begins in this park and heads south into the Blue Ridge Parkway. Three RV campgrounds are located within the park.
Vicksburg National Military Park, Mississippi: This park is the site of one of the most decisive battles of the Civil War. A 16-mile auto tour runs through the park and its monuments.
About This Article
This article is from the book:
This article can be found in the category:
This article is part of the collection(s):