The Options and Formatting section of the Accuracy Center is key. It contains several ways for you to customize Dragon Professional Individual to make your assistant do things your way. Remember to revisit your Options settings periodically when you are using Dragon Professional Individual. You may want to alter the settings you chose when you first started.
Opening the Options dialog box
It's important to set personal options from Options on the Tools menu. From the Accuracy Center, access it by clicking in the Open the Options dialog box. This is where you set up preferences for the Dragon Professional Individual assistant to work your way.
Opening the Auto-Formatting dialog box
Auto-formatting is important so don't skip it. Access it from the Open the Auto-Formatting Options dialog box in the Accuracy Center or go to Tools→Auto-Formatting Options.
If you get overzealous and regret some of the changes you made, click the Restore Defaults button shown here.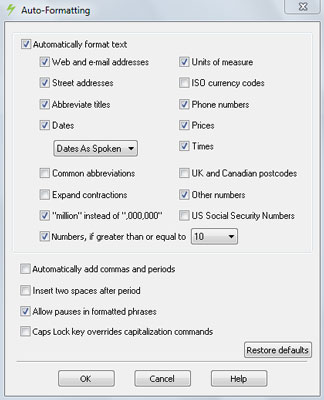 The Auto-Formatting dialog box.
To save time, consider setting these default options:
Format Street Addresses, Phone Numbers, Prices, and Times Automatically: These check boxes allow typical formatting without your attention.

Dates: You have the option to set a specific date format from a drop-down menu.

Format Web and Email Addresses Automatically: To set this option, select the check box. If you have to do these a special way and can't use auto-formatting, you may want to train them individually.

Allow Pauses in Formatted Phrases: A nice feature, because you often pause to check numbers when speaking phone numbers. If you deselect this check mark, Dragon Professional Individual may put spaces where you pause.
About This Article
This article is from the book:
This article can be found in the category: